The up-and-coming US violinist on his early years in Austria and summertime chamber music by the sea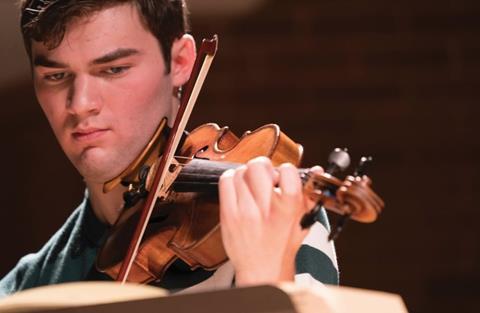 I was born in the US but we moved to Vienna when I was four because my parents had always wanted our family to spend some time living in Europe. Although I found out later that our apartment was in the building where Karl Böhm used to live, it wasn't until I was eight that I picked up a violin. It was on a whim, really, after I saw some of my classmates start learning. After some lessons from our very kind and inspirational class music teacher, I began studying with an Irish fiddler who put the focus entirely on making music and having fun. I don't think I actually played a scale until we moved back to the States when I was ten.
Not all teaching in the classical music world is focused on helping the student feel safe and supported, but I'm very lucky to be studying at Juilliard with Li Lin and Itzhak Perlman, both of whom do exactly that. Perlman has instilled in me a belief that every artist develops at their own pace, and that everyone has something wonderful and beautiful to say. He tells a lot of jokes, too.
The more I listen to different kinds of performers the more I like the different kinds of music they play. Unsurprisingly, I love all the big Romantic concertos and also late Romantic giants like Mahler, but I remember my teacher giving me a recording of Arthur Grumiaux playing the Bach Sonatas and Partitas and my ears opening to all the contrapuntal detail. Listening to Rachel Podger had the same effect all over again.
My girlfriend is a composer and she's introduced me to whole new realms of experimental music, so I like to think my field of vision keeps expanding – it's fun to hear all the different sounds you can make from the instrument when you explore its full potential. A piece I played recently by the New York composer Timo Andres has really stuck with me, as has a performance I was involved in of John Adams's Doctor Atomic Symphony, conducted by the composer himself.
A definite turning point for me was the first time I took part in the Perlman Music Program. It was amazing for me as a 13-year-old to be introduced to this non-judgemental environment where you have the space to try things out and learn not just from amazing teachers but also from your peers. I met my closest group of colleagues and friends that first summer in Long Island. We've grown up as people while we've been playing together, which I think makes for very special musical relationships.
I don't want to say the Perlman Music Program is where I 'discovered' my love of chamber music, but it's where I had my first proper encounters with the repertoire. Now I'm playing the same pieces at festivals in Europe and the US – all that summer sightreading has definitely paid off!
This article was published in the June 2020 Tetzlaff Quartet issue

The Tetzlaff Quartet members discuss balancing chamber playing with busy individual careers - and recording their first Beethoven album after 25 years together. Explore all the articles in this issue.

More from this issue…