The Milstein sisters take us on a journey of French repertoire and song transcriptions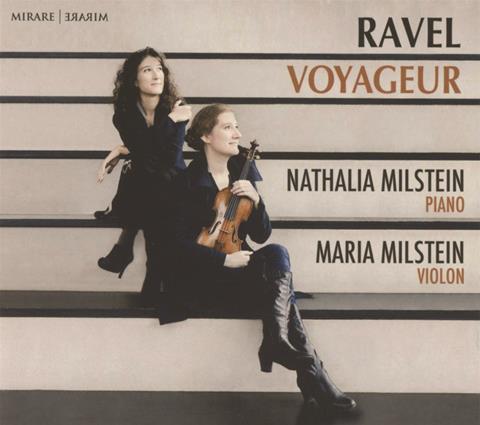 The Strad Issue: December 2019
Description: The Milstein sisters take us on a journey of French repertoire and song transcriptions
Musicians: Maria Milstein (violin) Nathalia Milstein (piano)
Works: RAVEL Sonata for violin and piano no.1; Cinq Mélodies populaires grecques (arr. Maria Milstein); Berceuse sur le nom de Gabriel Fauré; Sonata for violin and piano no.2; Kaddish (arr. Lucien Garban); Tzigane; Pièce en forme de habanera
Catalogue Number: MIRARE MIR416
When French violinist Maria Milstein's 2017 debut recital disc on Mirare (also with her pianist sister Nathalia Milstein) stood out for its off-the-beaten-track inclusions – Gabriel Pierné's Violin Sonata of 1900, and Milstein's own arrangements of art songs by Reynaldo Hahn – there's a nice sense of continuity to this all-Ravel follow-up celebrating the composer's openness to other cultures: roughly the same period, and while the lion's share is established repertoire for the violin, there are also a couple of more individual gems, most notably another song transcription of Milstein's own, this time Ravel's Cinq Mélodies populaires grecques cycle.
The established repertoire sounds very fine, too. Take the programme-opening posthumous Violin Sonata no.1, coming sweet, slender, supple and refined from her 1729 Bergonzi, with its long lines sustained to perfection. It's also captured beautifully: the violin close but not too close, with a hugely attractive dryness, as the piano blooms supportively just behind. Tzigane displays the same strengths, its poised quasi cadenza rolling into an equally supremely controlled, firmly rhythmic and crisply articulated moderato that climaxes in a shower of en pointe sparkle.
Moving on to the Cinq Mélodies populaires grecques: when you're dealing with an entire song cycle, rather than picking and choosing, it's inevitable that some songs will feel the absence of the voice more than others. For me the strongest is the opening 'Chanson de la mariée' whose lines best lend themselves to this new incarnation. In fact I almost prefer it without the voice. But that's not to say that there aren't pleasures to be enjoyed across the other four. In short, another strong album.
CHARLOTTE GARDNER