A classic Romantic pairing finally makes it on to CD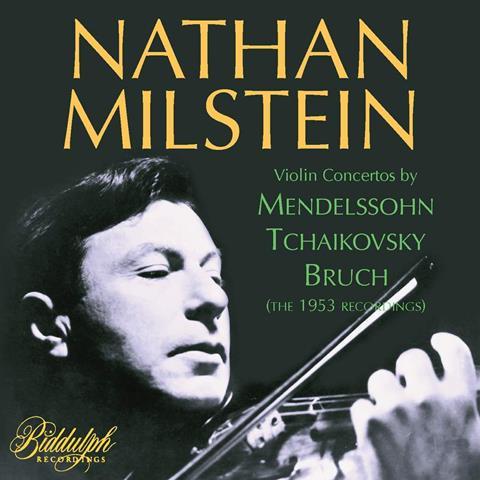 The Strad Issue: November 2023
Description: A classic Romantic pairing finally makes it on to CD
Musicians: Nathan Milstein (violin) Pittsburgh Symphony Orchestra/William Steinberg; Boston Symphony Orchestra/Charles Munch
Works: Bruch: Violin Concerto no.1 in G minor. Mendelssohn: Violin Concerto in E minor. Tchaikovsky: Violin Concerto in D major
Catalogue number: BIDDULPH 85035-2
Nathan Milstein's 1953 mono Mendelssohn and Bruch, largely responsible for establishing the two works as a popular LP coupling, are making their first CD appearance.
Milstein was the greatest interpreter of the Mendelssohn and this is the central one of three 'official' recordings. The opening phrases have a pleading quality unique to him and the whole of the first movement tugs at the heart strings, with a fine cadenza; the Andante is a masterly demonstration of simplicity combined with depth, and Milstein's lovely tone in the transition leads to a finale which really sounds like Mendelssohn.
William Steinberg (a native of Cologne, like Bruch) gives the G minor Concerto a solidity that never becomes stolidity, although the reading as a whole does not match Milstein's 1942 one with Barbirolli. The Adagio has a searching quality, and the finale is as satisfying as a tankard of good Kölsch beer.
The Tchaikovsky (also from 1953) sounds a little fierce here – there's a better transfer on Naxos, where it is coupled with short pieces. Former violinist Munch gets quite animated in the first movement but a minute is added to Milstein's timing in 1940 with Stock; the cadenza is terrific. A beautiful Canzonetta is followed by a gutty start to a finale which is truly Vivacissimo.
So… Milstein or Heifetz? The palm goes to Milstein in Mendelssohn and to Heifetz in Bruch. Honours are even in Tchaikovsky, but I would trade both their urbane interpretations for Kogan's intensity.
TULLY POTTER