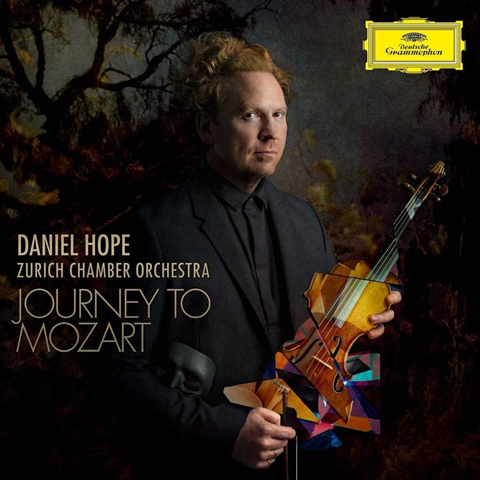 The Strad Issue: May 2018
Description: Thoughtful travels through the music of Mozart and friends
Musicians: Daniel Hope (violin), Zurich Chamber Orchestra
Works: GLUCK Dance of the Furies; Dance of the Blessed Spirits (Orfeo ed Euridice), HAYDN Violin Concerto no.4 in G major, SALOMON Romance, MOZART Violin Concerto no.3 in G major K216; Adagio in E major K261; Piano Sonata no.11 in A major K331 'Alla turca' (arr. Foules), MYSLIVEČEK Larghetto (Violin Concerto in D major)
Catalogue Number: DG 479 8376
'I am completely in awe at the scale of his genius,' writes Daniel Hope about Mozart. A pure Mozart album would be too easy, though, and Hope takes the thoughtful route – a 'Journey to Mozart'. So there's one of Haydn's charming but light concertos and slow movements by Josef Mysliveček – a friend and mentor of Mozart's – and Johann Peter Salomon, the violinist who enticed Haydn to London. The sound in these strings-and-harpsichord-accompanied works is finely focused and characterful.
The microphones move out a touch to accommodate the addition of woodwind in the disc's main attraction, Mozart's G major Concerto. Hope and his Zurich players respond to each other like chamber musicians, playing the slow movement (as well as the later Adagio K261, and the Mysliveček and Salomon pieces) with sentiment but not sentimentality, and having a fine time in the cheeky finale.
The disc is topped by two instrumental selections from Gluck's Orfeo and tailed by the 'Turkish Rondo' from Mozart's A major Sonata. The Furies' Sturm und Drang is accentuated by some unscheduled sul ponticello, while the violin substitutes for the Blessed Spirits' more usual flute. The Rondo is a riot, Hope's violin vying with harpsichord for the spotlight, and a kitchenette of various 'exotic' percussion instruments. All in all, it makes quite a journey.
DAVID THREASHER