Eloquent, artful, yet unadorned playing in the third of Koh's series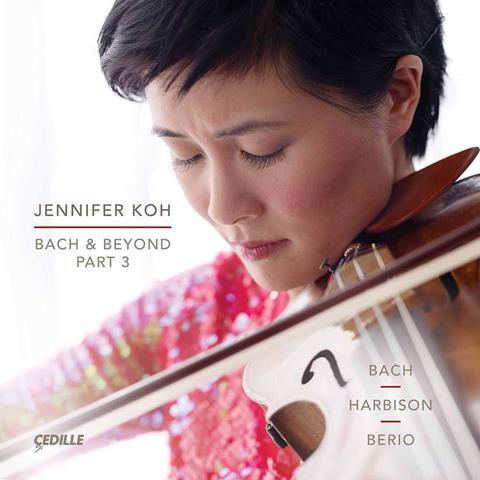 The Strad Issue: February 2021
Description: Eloquent, artful, yet unadorned playing in the third of Koh's series
Musicians: Jennifer Koh (violin)
Works: Bach: Sonatas for solo violin: no.2 in A minor BWV1003, no.3 in C major BWV1005. Berio: Sequenza VIII. Harbison: For Violin Alone
Catalogue number: CEDILLE RECORDS CDR90000 199 (2 CDs)
This is the third and final CD in Jennifer Koh's Bach and Beyond series, combining Bach's Solo Sonatas and Partitas with contemporary works inspired by them. In Bach's A minor Sonata BWV1003 Koh gives a clean, flowing performance of the opening Grave, eloquent but not demonstrative. The fugue, neat and agile, flows forward with artful simplicity. After a cool and contemplative Andante, warmed by light vibrato, the final Allegro is nimble and airy.
Luciano Berio described his Sequenza VIII for solo violin as a tribute to Bach's D minor Chaconne, and said: 'the soloist must make the listener constantly aware of the history behind each instrumental gesture.' Now there's a challenge, as if the work weren't challenging enough. Koh certainly has the measure of this demanding piece, and steers a sure course through its many episodes, bringing vivid character to each, and steady momentum to the whole. John Harbison's For Violin Alone, written for Koh in 2014, is a seven-movement work in a broadly tonal, astringent idiom, with the spirits of Bach's Partitas close by. They include an Air, a March and two dances, the second of which, at 4'14", is the longest. They are constantly inventive and attractive, and Koh plays them with aplomb.
Bach's C major Sonata BWV1005 opens with a serene reading of the Adagio. The fugue, gentle at the start, builds to muscular climaxes in its great, skilfully developed span. The Largo is elegant, and the moto-perpetuo Allegro assai is vigorous and cumulatively exciting. The recorded sound is warm and clear.
TIM HOMFRAY