A great Brahms interpretation returns to the catalogue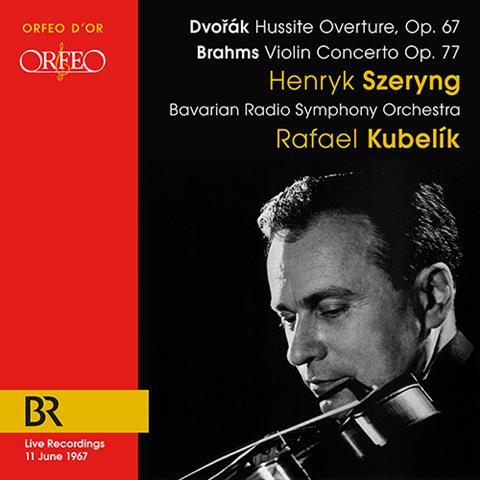 The Strad Issue: October 2022
Description: A great Brahms interpretation returns to the catalogue
Musicians: Henryk Szeryng (violin) Bavarian Radio Symphony Orchestra/Rafael Kubelík
Works: Brahms: Violin Concerto in D major op.77. Dvořák: Hussite Overture op.67.
Catalogue number: ORFEO C 220081
The Brahms was Henryk Szeryng's most congenial concerto and this performance, recorded live in Vienna by Bavarian Radio on 11 June 1967, was perhaps his best realisation of it. Orfeo issued this identical programme in 2007 and it should not have lapsed from its catalogue.
After an excellent Hussite Overture from Kubelík and the orchestra, the conductor shapes Brahms's tutti well, working up quite a storm and not relaxing too much for the lyrical theme. Szeryng's entry is imperious, he produces lovely lyrical playing for the quieter passages, his double- and multiple-stopping is sovereign and there is a wonderful ebb and flow to the Allegro non troppo – the timing to the start of the Joachim cadenza is 16:50.
After an intense oboe solo, Szeryng is eloquent in the Adagio, phrasing with the generosity that was a notable part of his character. He sets a slower tempo than Heifetz, Busch or Huberman for the finale but avoids being sluggish or heavy; in fact he dances nicely, rhapsodises when given the chance and fiddles with élan.
Violin tone and orchestral sound are up to late 1960s standards. The booklet has been rejigged, with some different photos, but the interesting essay still makes whopping errors of omission.
TULLY POTTER
Reference
13-year-old violinist Lara Boschkor wins Szeryng competition in Mexico