Compelling live performances of folk-influenced Hungarian chamber works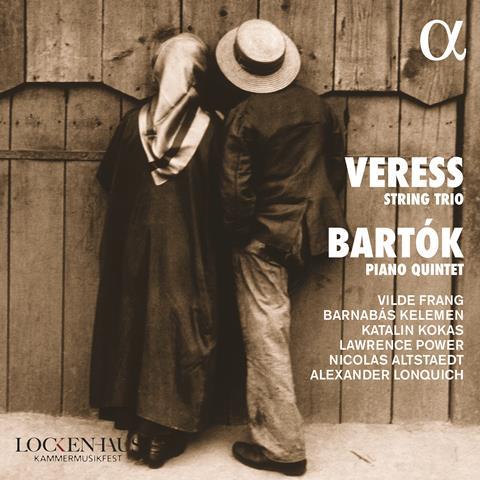 Description: Compelling live performances of folk-influenced Hungarian chamber works
Musicians: Vilde Frang (violin) Nicolas Altstaedt (cello) Lawrence Power (viola) Barnabás Kelemen (violin) Katalin Kokas (viola) Alexander Lonquich (piano)
Works: VERESS String Trio BARTÓK Piano Quintet in C major
Catalogue Number: ALPHA 458
This disc from the Lockenhaus Chamber Music Festival in Austria pulls together a clutch of fine musicians in performances recorded in the last two years of two relative rareties. A 1954 trio by Romanian Sándor Veress combines twelve-tone technique with Hungarian folk rhythms that betray his time spent studying in Budapest – including piano lessons with Bartók.
Cast in two movements, an Andante and an Allegro molto, the work is shot through with a breathless energy that has a slightly rough, raw-edged feel in the hands of violinist Vilde Frang, violist Lawrence Power and cellist (and festival director) Nicolas Altstaedt. Yet the whole is underpinned by impeccable intonation, and the percussive, racing second movement has an infectious drive that is particularly appealing for its constantly shifting textures.
The Piano Quintet by the 23-year-old Bartók is steeped in sensuous late Romanticism, and heavily indebted to Brahms – a work that he tried to suppress later in life but which gets a compelling reading here. Mellow-toned and rich throughout, the full-bodied tone of the strings always sings out, and the balance is perfect, the piano never muddying the soaring string lines. I found the extraneous breath sounds a bit distracting in places, but it wasn't enough to cloud an otherwise fine disc.
CATHERINE NELSON