Remarkable performance of an unmissable Latvian rarity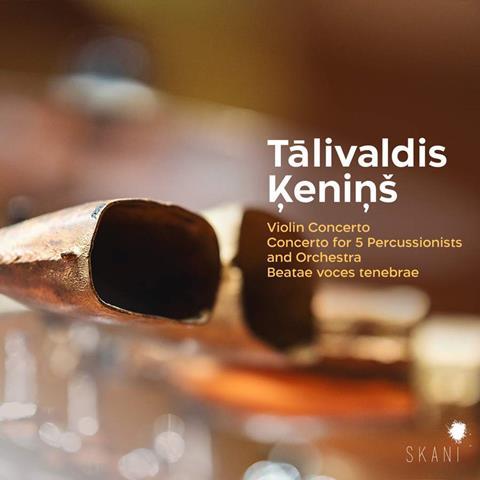 THE STRAD RECOMMENDS
The Strad Issue: February 2021
Description: Remarkable performance of an unmissable Latvian rarity
Musicians: Eva Bindere (violin) Perpetuum Ritmico, Latvian National Symphony Orchestra/Andris Poga
Works: Ķeniņš: Violin Concerto; Percussion Concerto; Beatae voces tenebrae
Catalogue number: SKANI LMIC088
The centenary of the birth of Latvian-born composer Tālivaldis Ķeniņš in 1919 was marked in his homeland with a series of performances including the revival of the 1974 Violin Concerto captured here. The composer studied with Messiaen in Paris and his music seems to be the real deal.
The concerto was written after Ķeniņš's emigration to Canada for the virtuoso Steven Staryk. It has a prickly Russo–Slavic accent, mid-century architectural discipline, exceptional orchestration, limitless enjoyment of what the solo instrument can do (it plays more or less constantly) and a distinctively Latvian undertone marked out by solemnity, loneliness and impassioned longing. Precise, defined expression goes hand in hand with wild fantasy (hints of Szymanowski).
While we're all so excited about Mieczysław Weinberg, this piece and its composer deserve attention and the performance from Eva Bindere demands it. Her playing is technically excellent, her poise and stature undeniable, her control of the tricky textures impressive and her leading of the piece from the front as charismatic as it needs to be.
Even lyrical music can be intensely rhythmic, and the Percussion Concerto that follows shows the composer building on rhythmic sophistication suggested in the Violin Concerto, even if the pieces goes to a different place in essence. Again, excellent performances and the extra Beatae voces tenebrae is no mere filler – an unsettling monolith that's worth hearing alone, perhaps first. This disc is unmissable.
ANDREW MELLOR