To tie in with the release of her new recording with the Latvian National Symphony Orchestra, Bindere shares her experience of playing Tālivaldis Ķeniņš's Violin Concerto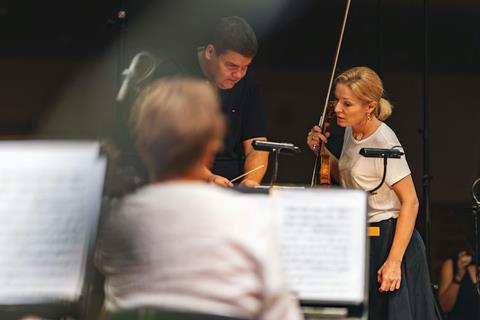 When I was approached last year by George Ķeniņš to perform a concerto by his father Tālivaldis (1919-2008) to mark the centenary of both Ķeniņš's birth and the founding of the Jāzeps Vītols Latvian Academy of Music, I jumped at the opportunity. I felt the usual excitement when embarking on a new project but my anticipation was heightened by the fact I'd never before played a single note by Ķeniņš.
Despite being one of Canada's most performed composers with eight symphonies, twelve concertos, three cantatas and a wealth of chamber work under his name, Ķeniņš is not widely-known elsewhere and it has only been in the last couple of decades, since Latvia regained independence in the 1990s and his music was no longer forbidden, that his work has been performed and recorded in his homeland.
I first heard the concerto by listening to the only recording of it, by Canadian violinist Steven Staryk for whom the concerto was written in 1974. I was struck by the brightness of the solo line, the bursts of colour and complex orchestration. There was a very intelligent mind behind this music and after receiving the score I could see how accomplished Ķeniņš was. His writing is exceptionally refined, technically virtuosic, full of life and colour, and of a genuinely world-class quality. Who was this man and why did I, and indeed the wider music world, not know more about his music? I discovered that a former colleague of mine, Ingrīda Zemzare, director of Kremerata Baltica Chamber Orchestra who also has a PhD in musicology, had written a book on that very subject called 'Talivaldis Kenins: Between Two Worlds'. I got hold of a copy.
Ķeniņš' musical life was shaped - as was the case for so many Latvian composers of his generation - by the politics around him. He was born in Liepāja in 1919 a year after Latvia first gained independence (his father Atis Ķeniņš was one of the founders of the Latvian Republic in 1918). By the time he was in his early twenties the country was facing a second invasion from the Soviets and so, like many other creatives, he left the country. Ķeniņš moved to Paris where he studied at the Conservatoire National Supérieur de Musique de Paris with Tony Aubin, Simone Plé-Caussade and Olivier Messiaen who would each greatly influence his musical thinking and instil in him a mastery and professionalism that stayed with him throughout his life.
As a youngster living on modest means in post-war Paris he survived financially by accompanying singers and dance classes. According to Zemzare's book, he even toured with famed French movie star Edwige Feuillère and directed pseudo-operatic productions in fashionable Parisian nightclubs with rising stars including Marcel Mouloudji and Michel Piccoli. It must have been an exciting time for the young Ķeniņš, taking in all the culture around him whilst learning from great musical minds at the Conservatoire who were opening his ears to the various trends and techniques of the contemporary music world. He was clearly making an impression on them too. In 1950 he earned a Premier Prix in Composition, awarded by a formidable jury line-up consisting of Nadia Boulanger, George Enescu, Arthur Honneger, Jacque Ibert and Francis Poulenc. The winning work, a sonata for cello and piano, was performed by celebrated cellist Maurice Gendron and pianist Geneviève Joy (also wife of Henri Dutilleux).
Ķeniņš left Paris for Canada after graduation to take a job as the organist for the Toronto Latvian congregation before becoming a lecturer at the University of Toronto. He stayed in Canada for the rest of his life where he continued to compose and like a great number of writers, musicians, painters who fled Latvia after the Second World War, he felt a duty to maintain his Latvian cultural identity. When Latvia regained independence in 1991, he was one of the first of its exiled composers to renew cultural ties and was named Officer of the National Three-Star Order of the Republic of Latvia in 1995.
Watch: Maxim Rysanov on the birth of Vasks's Viola Concerto
Twenty minutes and five movements long, his Violin Concerto is complex and technically demanding – it took me about two weeks to do my own edit of fingerings and bowings. I was impressed with Ķeniņš' wonderful technical understanding of the instrument which I later learnt via a quote from his son was probably down to the fact he studied Russian books of violin technique prior to writing to the concerto.
What struck me the most, however, is the French influence on his music which clearly separates him from other Latvian composers. You can hear his highly sophisticated French musical education in the musical language, instrumental thinking and compositional structure of the concerto. There's a subtletly of orchestration and colour which is reminiscent of Messiaen.
I was delighted when the Latvian label SKANi approached me about their plans for this disc and I feel honoured to be only the second violinist after Staryk, and the first Latvian, to record the concerto.
It's music that is crying out to be heard and I hope that this recording can play a part in making Ķeniņš better known.
If he had remained in Latvia after the war would Ķeniņš have been able to become such an accomplished composer? Perhaps not. His music combines three distinct cultural influences – his birthplace Latvia, his adopted homeland Canada and France where, crucially, he learnt his trade. However, he remains a son of Latvia and he might well be one of the greatest composers our country has produced. We just don't know it yet.
Eva Bindere performs Tālivaldis Ķeniņš' Violin Concerto in a new recording with the Latvian National Symphony Orchestra and conductor Andris Poga which also features Ķeniņš' Concerto for 5 Percussionists (1983) and Beatae voces tenebrae (1977) and is released on the SKANi label.
To watch a trailer for the recording, see below