Bruce Hodges watches a tribute to Lynn Harrell and part of a series by Jennifer Koh, with links in the article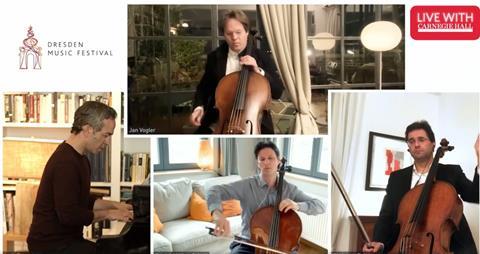 A TRIBUTE TO LYNN HARRELL
VARIOUS LOCATIONS 21 MAY 2020 (Click here)
JENNIFER KOH (VIOLIN)
HOME OF JENNIFER KOH 30 MAY 2020 (Click here)
Jennifer Koh has inaugurated an online series of micro-concerts called Alone Together – each scarcely 15 minutes long, broadcast live from her home, against a vintage Paris map on the wall.
For the latest (no.8), the violinist offered four premieres, starting with HAL, a moto perpetuo exercise by Brooklyn-based composer Qasim Naqvi. From composer Caroline Davis came heart rituals, with a plaintive opening melody, transformed by double-stopped spiccatos and descending glissandos.
After spare opening measures, Ted Hearne's Distance Canon evolved into frantic, jittery lunges, generating a distinct sense of unease. Koh ended with Nina Shekhar's mournful Warm in My Veins, dense with arpeggios, more double-stops, and scratchy timbres, ending with high harmonics.
Earlier in the month, assisted by cellist Jan Vogler, Carnegie Hall presented a 45-minute tribute to the monumental Lynn Harrell, who died in April. Archival footage included Harrell's 1961 appearance in the finale of Dvořák's Cello Concerto with the New York Philharmonic and conductor Elyakum Shapirra, and from 1994, Bloch's Kol nidrei with the Royal Philharmonic and Gilbert Levine, part of the famous Holocaust observance for Pope John Paul II.
An eye-popping array of cellists, each filmed at home, made a remote chorus for Julius Klengel's Hymnus (1920). Vogler, Daniel Müller-Schott and Christian Poltéra made a luxurious trio for David Popper's Requiem (1892), with Inon Barnatan at the piano. And in the Preludio from Villa-Lobos's Bachianas brasileiras no.1, six of the cellists were joined by Clive Gillinson, Carnegie Hall's executive and artistic director, who was with the London Symphony Orchestra in the 1970s.
BRUCE HODGES