Bruce Hodges watches the Bowdoin International Music Festival's performance of Mozart, Kevin Puts and Dvořák at Studzinski Hall on 10 July 2023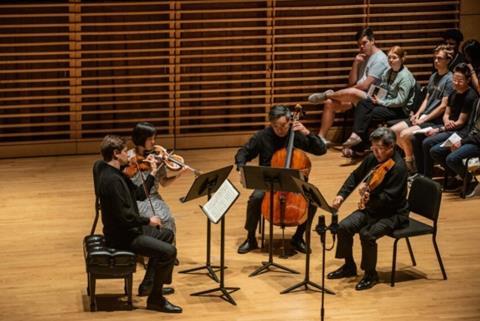 Flanked by scores of eager audience members on stage, the Ying Quartet walked out to wild applause and whooping for this appearance at the Bowdoin International Music Festival where it is quartet-in-residence. But the hubbub evaporated when the players raised their bows for Mozart's Quartet no.22 K589, with the first movement ambling along at a leisurely pace; the Larghetto had a ghostly nostalgia and the Menuet plenty of grace. As we reached the finale, the crowd noise resumed: it was inspiring to see such genuine enthusiasm.
Violist Phillip Ying introduced Kevin Puts's Dark Vigil (1999), a work written in reaction to the waves of school violence that were taking place at the time; Ying and his siblings met Puts when they were students at Eastman. With slow-moving chords, interrupted by more agitated writing, long sequences of a few simple notes flowed from player to player, as if to recall those students, teachers and parents caught in a sad, endless cycle. After the gentle, consolatory ending, the audience reacted with sustained applause, drawing the foursome out for another bow.
Dvořák's 13th Quartet is a real workout, akin to an hour at the gym – that is, if your gym had a gorgeous Czech soundtrack – yet the musicians made it look effortless. A soaring second movement only highlighted the surrounding extroversion, and some calculatedly coarse lunges in the third movement offered an element of surprise. For the uninhibited finale, the group maintained its balance and rhythmic precision, with the final bars especially spine-tingling as the music accelerated toward the end.
BRUCE HODGES