Leah Hollingsworth hears a faculty recital, part of the Bowdoin International Music Festival, on 18 July 2022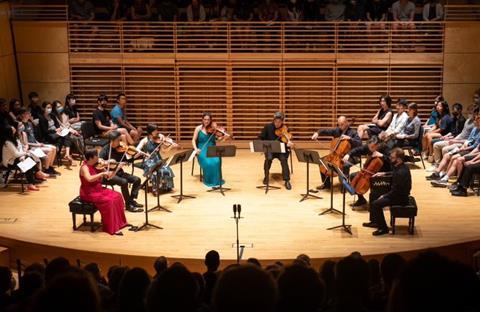 Members of the Ying and Jupiter Quartets joined forces for a night of remarkable chamber music at the Bowdoin Festival. Nelson Lee, first violin of the Jupiter, brought real sweetness of sound and clarity of articulation to Mozart's G minor String Quintet K516. The darkness of Liz Freivogel's rich viola sound, combined with her thoughtful phrasing, lent appropriate solemnity to the work. In the muted Adagio, Lee drew long, flowing lines that wove delicately in and out of the other voices. The final movement was appropriately sombre but energetic, and I appreciated the depth of sound that the ensemble revealed.
Dan Visconti's Eternal Breath followed; Meg Freivogel explained that it was commissioned by her parents for their 40th anniversary and boasted an instrumentation that allowed her, her siblings and their spouses to perform together. The musicians conveyed the impression of a single eternal breath passed on from person to person (and perhaps generation to generation) as the initial phrase evolved over the course of the work. The group found a sustained, well-balanced blend of sound throughout and gave a moving performance of this intimate piece.
Dvořák's A major String Sextet concluded the programme and the warmth of the introduction by the Ying Quartet's leader Robin Scott set the stage for a wonderful performance. Phillip Ying played the viola solo with a brightness of sound and lightness of character that easily cut through the layers of music. The Dumka was imbued with an apt rhythmic energy, with the players stylishly balancing the classical and folk-like elements, and the finale was engaging and well-paced.
LEAH HOLLINGSWORTH
Niles Singer/Bowdoin International Music Festival