Bruce Hodges attends two performances at the Studzinski Recital Hall in Bowdoin, ME, US, on 28 and 30 June 2023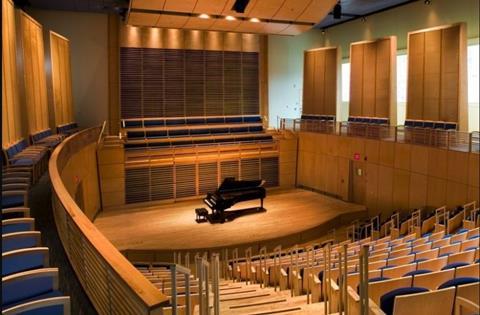 Ayano Ninomiya, Peter Winograd (violins) Dimitri Murrath, Philip Ying (violas) Steven Doane (cello) Jeremy Mccoy (bass) Linda Chesis (flute) Pei-Shan Lee (piano)
Studzinski Recital Hall, 28 June 2023
A few minutes after violist Philip Ying – an artistic director of the Bowdoin International Music Festival, now in its 59th year – introduced this evening, he joined bassist Jeremy McCoy and flautist Linda Chesis for Schulhoff's Concertino. It's a delightful work that deserves wider exposure. Starting with the opening low rumblings for viola and bass, the ingenious orchestration highlights pairs of instruments, sometimes with a modal, primitive feel, like an ancient chant. For the Furiant, the two strings provided a handsome backdrop for the high-lying piccolo, and all three musicians contributed raucous energy in the folk-infused finale.
The evening began with another unusual trio, the Serenade by Kodály, for violinists Ayano Ninomiya and Peter Winograd with violist Dimitri Murrath. Its folk elements were also strongly characterised and the rollicking final movement brought cheers and whoops from the audience.
But for some, the real comfort food came last: Schubert's Piano Trio no.1, with Winograd joined by cellist Steven Doane and pianist Pei-Shan Lee. With all three players in exquisite balance, the composer's rivers of melody seemed effortless and, especially in the second movement, Doane's tonal bloom was most alluring. The prim third movement exuded a winsome air, with the two strings insouciantly following the piano's lead. And the finale, elegant in its proportions, alternated ferocity and grace, utterly confident in its gallop to the end.
Ani Schnarch, Kurt Sassmannshaus, Ayano Ninomiya (violins) Natalie Brennecke, Dimitri Murrath (violas) Jeffrey Zeigler (cello) Jeremy McCoy (bass) June Han (harp) Linda Chesis (flute) Pei-Shan Lee, Tao Lin (piano)
Studzinski Recital Hall, 30 June 2023
For Bloch's Baal Shem, violinist Ani Schnarch offered passionate advocacy, especially in the second movement ('Nigun'), showing her violin's hearty lower register, synchronised with Tao Lin's ominous piano rumblings.
Charming in its sophistication, Florent Schmitt's Suite en rocaille engaged a trio of strings – Kurt Sassmannshaus, Natalie Brennecke and Jeffrey Zeigler – with added embroidery from Linda Chesis on flute, and June Han on harp. The quintet was particularly enchanting in the graceful third-movement minuet.
Perhaps the evening's most intriguing rarity was the Fantasia on themes of Marais by John Tartaglia (1932–2018), a former violist with the Minnesota Orchestra, who was also a teacher and luthier. With Dimitri Murrath and Jeremy McCoy in sometimes-languid, sometimes-insouciant rapport, the duo brought the composer's pensive study to life, with glimpses of the 18th century flickering like a candle.
To end an eclectic evening, violinist Ayano Ninomiya and pianist Pei-Shan Lee plunged into the lush world of Richard Strauss's Violin Sonata, in which Ninomiya's long bow strokes contrasted with Lee's glittering counterpoint. Apart from the magnificent finale, I was moved by the middle movement – sensuous, tender and luminous.
BRUCE HODGES