Leah Hollingsworth hears the performance of Beethoven, Shostakovich, Bridge and Britten at the Shriver Hall Concert Series in Baltimore on 1 May 2022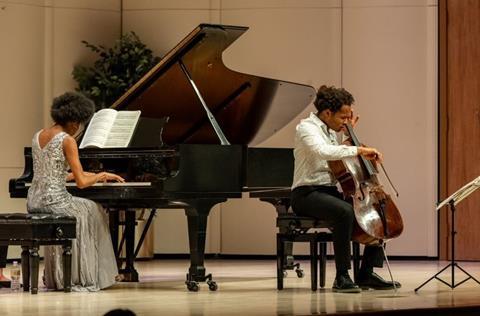 It is a treat to hear such fine ensemble playing as that from the Kanneh-Mason siblings, who presented a bold programme of four sonatas.
Beethoven's Cello Sonata in C major op.102 no.1 opened with warmth and power. The tenderness of the slow introductions to each of the two movements was perfectly balanced by the power of the first movement, while the playful and precise articulation in the second brought a light-hearted feel. The pair brought equal power to Shostakovich's D minor Cello Sonata, playing with vigour and intensity. On occasion I wished Sheku might have experimented with less vibrato and a rawer sound, although the Largo was exquisitely coloured and deeply emotional. The final Allegro was athletic, with some particularly impressive piano playing.
The Kanneh-Masons brought passionate lyricism to the first movement of Frank Bridge's D minor Cello Sonata, with Sheku drawing out an intense emotionalism from his powerful bow control. By contrast, the opening of the Adagio ma non troppo revealed a searching quality, which led to a furious middle section before returning nostalgically to the themes of the first movement, ending in a triumphant D major. Britten's Cello Sonata in C major concluded the programme brilliantly, with terrific playing from both siblings. The energy of the cello pizzicatos in the Scherzo matched well the articulation of the piano, while the Elegia had power and beauty, offering a moment of respite before the characterful Marcia and the virtuosic Moto perpetuo.
LEAH HOLLINGSWORTH
Photo: Caitlin Oldham/Arts Laureate