Leah Hollingsworth watches a live stream from the Bowdoin International Music Festival on 5 July 2023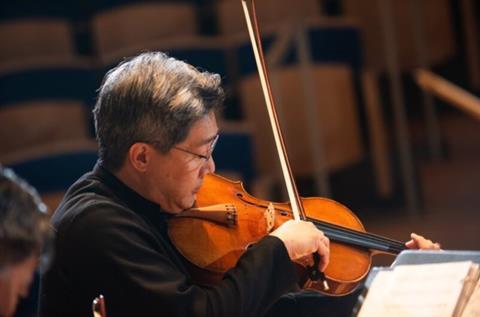 Cellist Steven Doane gave a beautiful introduction to an appreciative audience at the Bowdoin International Music Festival, comparing Bach's keyboard and string writing and illuminating his E flat major Cello Suite for the audience. He chose a judicious tempo for the Prelude, which allowed for extremely clean string-crossings, and a graceful Allemande gave way to an almost stately Courante. Despite Doane's Romantic approach to vibrato in the earlier movements, the Sarabande was well balanced and boasted pristine intonation in the chords and double-stops; the bourrées and closing Gigue were rustic but never out of control.
The rich sound and masterful touch of violist Dimitri Murrath brought character and depth to Schumann's A minor Violin Sonata op.105: in his hands it worked convincingly on the viola. In the Allegretto he relished its dramatic character shifts, and Murrath's ability to negotiate his instrument with ease and grace was impressive in the final Lebhaft.
Mozart's joyful C major String Quintet K515 made a delightful end to the programme and was marvellously performed by Peter Winograd, Janet Ying, Rebecca Albers, Phillip Ying and Steven Doane. Winograd led the group well, with his sweet sound and a welcome variety of colour. Violist Albers stole the show in the Andante and the entire work had an infectiously light-hearted feel.
LEAH HOLLINGSWORTH