Bruce Hodges listens to the foursome pass on tips and hints at the Bowdoin International Music Festival on 5 July 2022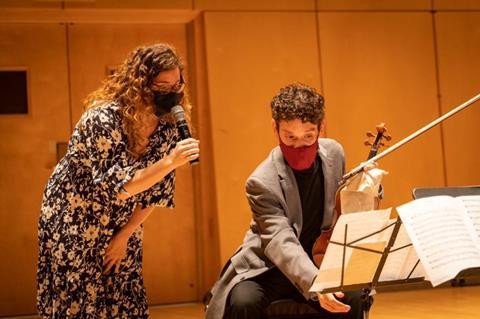 During a pandemic-blighted summer, with many events around the country cancelled, the Bowdoin International Music Festival filled July with an abundance of concerts, as well as masterclasses, and early in the month, members of the Ariel Quartet coached two groups of students. The results provided intimate glimpses into the process of exploring and polishing.
First up: Fang-Chun Hsieh and Kim Ye Eun (violins), Mathew Lee (viola) and Joseph Kim (cello), in the opening of Ravel's String Quartet. Initial impressions of the students' ardour, thoughtfulness and sense of contrast – not to mention smoky timbre – were borne out by subsequent comments. Ariel cellist Amit Even-Tov mentioned Brahms's quartets, and elements of painting, encouraging more colour. Violist Jan Grüning chimed in, 'If one person leads, and the other follows, you will always be behind', encouraging a more simultaneous partnership.
Alexandra Kazovsky, one of the Ariel violinists, emphasised more flowing phrasing, rather than taking a bar-by-bar approach. Her violin colleague, Gershon Gerchikov, echoed those thoughts and then, using Kim Ye Eun's violin, led the group in an exercise in which the beat was subtly erased for a few minutes, emphasising not only flow but trust too. Later Even-Tov focused on dynamic changes – between piano and pianissimo – as well as the use of vibrato (perhaps narrower, perhaps faster) in each case.
The Ariel foursome later coached four more students – Gabriel Maffuz-Anker and Xingyu Guan (violins), Dominick Douglas (viola) and Benjamin Rodriguez (cello) in the opening movement of Beethoven's String Quartet op.127, played with impressive weight and cohesion. Gerchikov noted: 'For one week, this was incredible.' Then he encouraged the players to examine their conceptions about working together, both as individuals, or – as he brought forth in an analogy – like the organs in the human body. After subsequent comments on crescendos, timing, upbows, and other issues, the happy results were audible.
BRUCE HODGES
Photo: Niles Singer/Bowdoin International Music Festival