Bruce Hodges hears the performance at Weill Recital Hall on 2 May 2019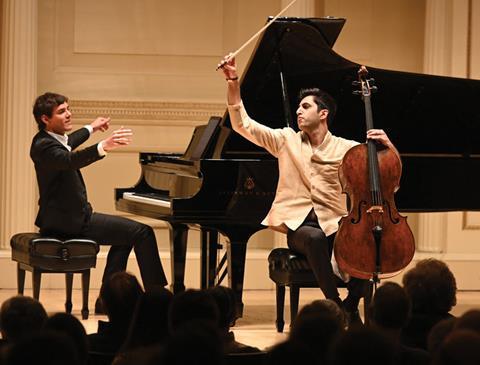 It's not often that an encore almost steals the show. But after a juicy programme at Weill Recital Hall, Kian Soltani and Aaron Pilsan unleashed New York Honk (1987) by the Swiss cellist and composer Thomas Demenga. In slightly over two minutes, Demenga combines a cartoonish, rapid-fire piano line, over which the cello replicates an array of honking cars, squealing buses, and impatient delivery trucks. With hairpin accuracy and timing, Soltani and Pilsan delighted the sold-out audience.
Just prior, the duo had completed Shostakovich's volatile Cello Sonata in D minor op.40, with the cellist relying on memory, and the pianist with an increasingly ubiquitous iPad. From the first movement's ghostly closing pizzicatos, to the vertiginous waltz and achingly sorrowful slow movement, to the final explosive detonations, Soltani's tone conquered all (he plays a Milanese Grancino instrument from 1680). At the end, the audience shouts were a natural reaction to the relentless intensity.
For the finale, Piazzolla's Le grand tango (played by Gautier Capuçon and Yuja Wang scarcely a week earlier, reviewed July 2019) conjured up the dim recesses of a Buenos Aires nightclub. Soltani was especially effective in the blistering glissandos and deployed bow pressure to create a gravelly haze.
To open the evening, Schumann's Adagio and Allegro op.70 was adroitly phrased, with the latter portion festive but not out of control. And even though Beethoven's Cello Sonata in A major op.69 rewards struggle, neither artist showed any signs of strain. Whether thumping pizzicatos, surprising dynamic shifts, or a whiff of impishness, the chain of surprises yielded maximum drama.
Photo: Pete Checchia