Tim Homfray visits London's Wigmore Hall for the performance on 10 January 2022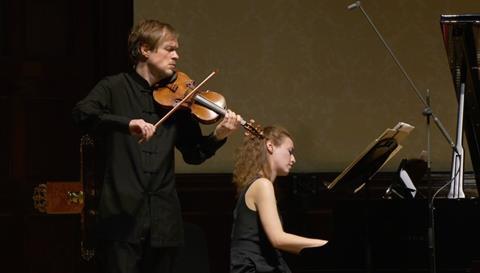 Romances threaded their way through this lunchtime concert, beginning with Amy Beach's of 1893. Kraggerud started out with an appropriate sweetness of tone, which quickly developed into urgent passion. More urgent still was the opening of Grieg's Third Violin Sonata, in which the semiquaver groups – a crucial part of the theme – were almost submerged in the adrenalin rush. The movement developed into a real drama, though, unsettling and sometimes vehement, packing a powerful emotional punch and wonderfully played. And so to the second romance (strictly a romanza), the sonata's second movement, the melody firmly and expressively shaped, before the affirmative central Allegro molto. When it returned, the Romanza was gossamer-toned. The final Allegro animato was full of nervous energy, conveyed with fierce, punchy bowing.
The third Romance was Kraggerud's own. His Romantarctica, subtitled 'Heroes from the past and hopes for the future', was jointly commissioned by the Arctic Philharmonic and the Tasmanian Symphony Orchestra and first performed last year. It has already been adapted to various groupings; this was the UK premiere of the violin and piano version. Romantarctica was inspired by the voyages of the polar explorers and its musical language follows straight on from Grieg: wistful, sprightly, played with great tonal variety. Whether it captures the grand deeds of its inspiration is a moot point, but it was an effective performance. Stojanovic was excellent throughout.
TIM HOMFRAY
Photo: courtesy Wigmore Hall