Tim Homfray attends Prom 14 at the Royal Albert Hall on 25 July 2022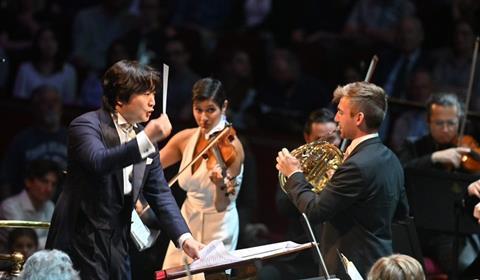 Ethyl Smyth was well served at this season's Proms, with her Mass and her opera The Wreckers being featured, as well as her Concerto for violin and horn, written in 1927 and dedicated to Proms founder Henry Wood. It has a forthright and energetic orchestral opening, followed quickly by the first entries of the soloists, with flowing melody in the violin and comments from the horn. Violinist Elena Urioste was suitably deft in the roulades and episodes of rhythmic dance that ensued and the sense of constantly shifting character and colour was well caught by both soloists, with Urioste intimate and musing one moment and in great lyrical flow the next.
Goldscheider opened the gentle second movement, mingling tenderness and nobility; the horn role here was often contemplative, with Urioste weaving fluent arabesques above. The finale was jaunty and dancing with Urioste a nimble flibbertigibbet, before a drumroll heralded a joint, rather comic cadenza, taking Goldscheider into the depths as the pair engaged in an eccentric conversation. Smyth makes considerable unflashy demands throughout the concerto, which Urioste and Goldscheider met with deceptive ease. They were well partnered by the CBSO and Kazuki Yamada, who had opened the concert with a breakneck and dazzling account of Glinka's Ruslan and Lyudmila Overture, and ended with a magnificent performance of Rachmaninoff's Second Symphony.
TIM HOMFRAY
Photo: BBC/Mark Allan