Violinist Elena Urioste writes about the value of having a sense of adventure and removing labels when approaching music of different styles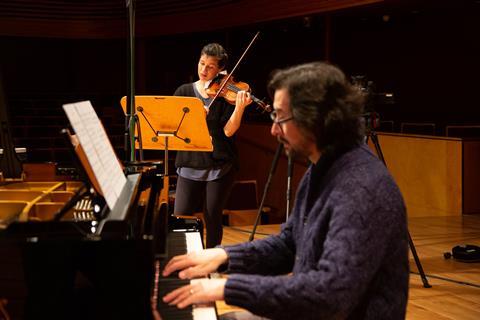 It's no secret that my dream musical scenario, for decades now, has been to teleport back in time and sit in a violin section for the likes of Nat King Cole, Frank Sinatra, and Ella Fitzgerald. This topic of conversation surfaced early on in the courtship of my now-husband, pianist Tom Poster, and it took, apparently, a pandemic for the two of us to realise a version of my fantasy (spoiler: it was every bit as fun as I'd imagined!).
My taste in musicians began more 'traditionally': my earliest hero was the violinist David Oistrakh, with his bold sound and larger-than-life stature; but even at the age of five or six, easily dazzled by pyrotechnics and grandeur, I was equally drawn to the more intimate worlds of violin playing. I remember the first time music made me cry, watching my first teacher, the incredibly gifted violinist Xiao-Fu Zhou, flutter around the fingerboard demonstrating the muted, gossamer arpeggios in the Efrem Zimbalist transcription of Carl Engel's Sea-shell — 'Hummingbirds,' I thought to myself as my eyes welled up. It has always been the sweet, shimmery tones, golden croons, winks and smiles that have drawn me in most powerfully, in music penned by Beethoven or Boyz II Men, performed by artists from Fritz Kreisler to Bing Crosby.
In general, people seem quite attached to living in the binary; grey areas, fluid spaces, lands of in-between, are much more conceptually difficult to sit within comfortably. There is a propulsive need to define, categorise, make sense of things in black-and-white terms, be it race, sexuality, gender expression, or even music. People want to know what something is called: classical, folk, bluegrass, pop, film. Even within the rather niche world of classical music, players often get roped into roles without their consent: 'baroque violinist', 'contemporary player', 'studio musician'. People are perpetually amazed and confused by my husband Tom, most widely recognised as a pianist but also a talented arranger, composer, occasional recorder/kazoo/other miscellaneous mouth instruments player, and former cellist and oboist. Often, when people are gifted at many things, the public — rather than celebrate the diverse array of riches on display — gets confused, bogged down by the need to label and incredulous that it might just be OK to have mastered multiple facets of a craft. Indeed, it used to be norm, even the expectation, that musicians would be equally adept at composing, performing (often on multiple instruments), and improvising; the pressure to specialise is a relatively modern invention.
In celebration of those who dissolve boundaries (or refuse to see them at all), here are a few of my favourite examples of great musicians performing unexpected repertoire. I'm afraid the word 'crossover' has way too many negative connotations for my taste, conjuring images of cringeworthy dancing under sprays of water or masked chase scenes to the tune of a remixed Beethoven Symphony no.5, so instead, I simply offer these recommendations of musicians who at some point decided, 'Hey, I'd like to try something new!'
Jascha Heifetz, effortlessly dazzling in the iconic concertos of Tchaikovsky and Sibelius, poured equal violinistic passion into his duets with Bing Crosby, his own transcriptions of Gershwin, and this exquisite rendition of the classic spiritual, Deep River.
The Hollywood String Quartet, who made benchmark recordings of late Beethoven, Schubert, and Schoenberg in the 1950s, spent much of their time as principal players in the major movie studio orchestras, and partnered with Frank Sinatra for his album Close to You, featuring the peerless arrangements of Nelson Riddle.
Among contemporary musicians, the American mandolin virtuoso Chris Thile, who grew up in the trad-music scene of Southern California and is perhaps best known as part of the progressive bluegrass quintet Punch Brothers, released in 2013 a recording of Bach's Solo Violin Sonatas and Partitas played on mandolin, which is hands-down my favourite recording of this music. Perhaps the absence of a bow eliminates many of the traps that even the finest violinists fall prey to, or maybe Chris just has superpowers that the rest of us mere mortals could only dream of (That pulse! That sense of dance! The total lack of inhibition or pretension!)
And for anyone looking for a more extreme example of musical eclecticism, here is violinist Gilles Apap traversing myriad musical styles with aplomb in his last-movement cadenza to Mozart's Third Violin Concerto!
When #UriPosteJukeBox — Tom's and my project which saw us filming and sharing 88 daily musical videos on our social media accounts during the first pandemic lockdown of 2020 — started picking up steam, one of the things that seemed to resonate most deeply with our audience was the variety and the sense of suspense that accompanied each day's post. Would we be offering up a movement of a sonata by Beethoven or Franck, one of Tom's effortlessly gorgeous arrangements of a Great American Songbook classic, or a spirited medley for some of our tinier listeners — nursery rhymes, or perhaps a Disney tribute? Often, listeners ended up falling for musical selections well outside their usual comfort zones. Tom and I made sure to present every performance with equal care, dedication and love, and it became a sort of sub-mission, alongside connecting and entertaining the lovely international community that cropped up online around the project, to dissolve the perceived boundaries between Whitney Houston, Messiaen, Duke Ellington, and Pinkfong.
For me, the moral of this story is that labels can end up limiting the freedom of the listener far more than the performer, who, if they embrace a sense of adventure (and what is music if not one of the greatest adventures known to man), may surprise you with the fruits of their commitment to their own authentic voice. If we do require a label, let's learn to be satisfied simply with 'musician'.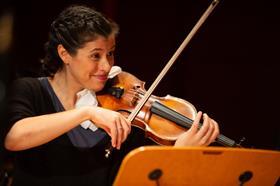 To return to my opening dream, I leave you with one of the aforementioned tracks I would give anything to teleport back in time to play on. I'm not actually sure what genre this song is considered, nor do I care; I only know that this, for me, is about as good as music gets — Charlie Chaplin's Smile, performed by the incomparable Nat King Cole with the swoon-inducing strings of the Nelson Riddle Orchestra.
Jukebox: The Album by Elena Urioste and Tom Poster is now available on Orchid Classics.
Read: Violinist Elena Urioste on why a thorough warm-up regimen is a necessity for good practice
Watch: Elena Urioste and Tom Poster play Send in the Clowns