Charlotte Gardner hears a compendium of former winners of the coveted Awards at London's Wigmore Hall on 11 June 2023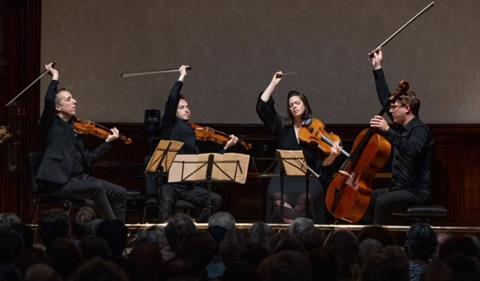 It's a lofty list of almost 200 artists and ensembles who have received early-career support from the Borletti-Buitoni Trust since its 2003 inception by Ilaria Borletti-Buitoni, her late husband Franco Buitoni and their friend Mitsuko Uchida. Strings players alone include Alina Ibragimova, Augustin Hadelich, Gautier Capuçon and the Jerusalem, Heath and Pavel Haas quartets. Hence a weekend-long anniversary celebration whose final concert line-up was stellar even by Wigmore standards. Further BBT names were in the audience, some of whom had already performed, such as Timothy Ridout, and some who had not, such as recorder player Lucie Horsch. Essentially, the music world turned out to pay homage.
Quatuor Ébène opened the night with a Purcell Fantasia – warm, free, with subtle vibrato – and closed it with a spontaneous and unpredictable-feeling account of Ravel's String Quartet. Playful sparkle, febrile shimmering and throaty ardency: this reading had it all. Prolonged stillness reigned after the 'Très lent' third movement, and not even the between-movement retuning – the Wigmore aircon eased rather than obliterated London's heatwave – broke the overall mood. As Raphaël Merlin was unavailable, the younger Ukrainian cellist Aleksey Shadrin took his place, looking nervous, but visibly supported by the others.
Add a warmly received Schubert Rondo in B minor D895 from violinist Itamar Zorman and Uchida herself, and guitarist Sean Shibe and mezzo Ema Nikolovska bringing the house down with their English duo set from Dowland to Adès, and BBT's flag flew high.
CHARLOTTE GARDNER