The Ébène Quartet Academy will teach string quartet playing to a new generation of students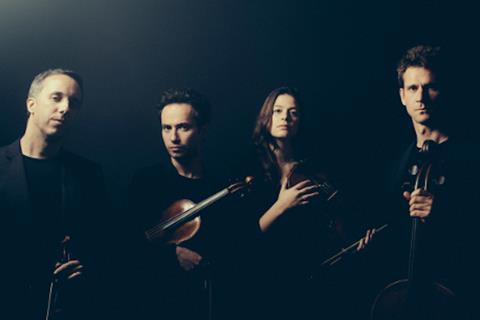 The Quatuor Ébène is to establish a new string quartet class at the University of Music and Performing Arts Munich (HMTM) as part of a newly-created Ébène Quartet Academy.
The aim behind the appointment is to create a world-class hub for chamber music education at the university. For the Quatuor Ébène, it has further significance: it was in Munich that the ensemble won 1st prize at the ARD International Music Competition in 2004. This appointment also enables the quartet to work alongside their formative mentor, Eberhard Feltz, whom the university has secured as 'Visiting Professor'.
The 'Ébène Quartet Academy' will offer space for selected string quartets in the Masters programme starting in the winter semester of 2021/22.
Watch: Ébène Quartet talks about life in lockdown and performing Beethoven
Read: How to replace a quartet member, by the Ébène Quartet
Read: The Ébène Quartet on turning 20
On the appointment, Dr. Bernd Redmann, President of the University of Music and Performing Arts Munich, commented: 'In recent years, general public appreciation of chamber music has been growing steadily - and with the appointment of Quatuor Ébène and Eberhard Feltz, Munich will further strengthen its standing as a center for chamber music. It is a major win for our current and future students.'
Meanwhile, the Quatuor Ébène musicians said: 'Our career as a young string quartet took off at the ARD Music Competition in Munich. So we are all the more pleased to return here and pass on our experience to the students. We are quite certain that teaching will also have a positive effect on our ensemble work within the quartet.'
The four musicians of the quartet recently celebrated their 20th year on stage with a complete recording of Beethoven's string quartets in the 2019/2020 season, which culminated in performances of the complete string quartet cycle in European halls such as the Philharmonie de Paris and the Alte Oper Frankfurt.