Currently making international appearances to mark Beethoven's 250th birthday as well as celebrating 20 years since its foundation, the Ébène Quartet is riding high now that violist Marie Chilemme has become an established member. Charlotte Gardner meets the players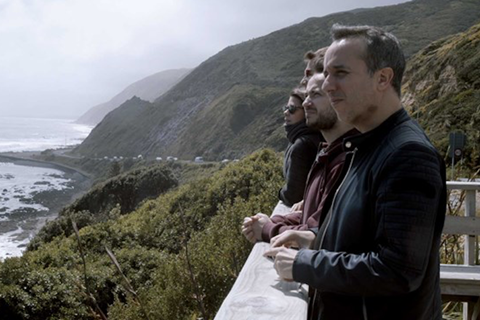 The following is an extract from a longer article in the February 2020 issue. Click here to log in or subscribe. The February 2020 digital magazine and print edition are on sale now.
You never know quite how it's going to go when interviewing a string quartet: not because string quartets are inherently the natural habitat of tricky personalities, but simply because the ratio of one to four isn't always ideal for establishing a genuine human connection. It's especially true when this particular brand of foursome can represent such a mighty single unit if all is working well. And all is certainly working well for the Ébène Quartet.
For starters, there's its sheer longevity: near enough to 20 years together for its three long-term members, violinists Pierre Colombet and Gabriel Le Magadure, and cellist Raphaël Merlin; and although violist Marie Chilemme joined as recently as 2017, she seems to be spun from exactly the same musical DNA.
Then there's the scale of the group's international success since its 2004 victory at the ARD Music Competition: the string of award-winning albums, the relationships established with the world's greatest concert halls and festivals, the fact that the players are as acclaimed as jazz musicians as they are as classical ones – and now there are the quartet's projects to mark Beethoven's 250th birthday.
The Ébène's enormous Beethoven around the World tour, from April last year to the end of January this year, has encompassed countries from Kenya to New Zealand. Portions have been recorded live for their long-standing label Erato, with each of seven discs set down in a different country and the entire box set due for release in March.
In addition, this year they are presenting entire Beethoven quartet cycles at Carnegie Hall, New York, and at several European venues including the Konzerthaus in Vienna and the Verbier Festival, where the ensemble has played almost every year since 2008, and where the cycle will also be filmed. There will, in addition, be a separate documentary of Beethoven around the World, due for release at a later date.
When I join the Ébène musicians on a sunny hotel terrace at the 2019 Verbier Festival I am all prepared for the role of privileged outside observer, not least because it is one of those fixed-parameter arrangements that shout 'superstar artist', slotted as it is efficiently into the hour between lunch and their afternoon rehearsal, with me carefully chaperoned into their presence by a member of festival staff.
So, to find them so completely relaxed, then to be quickly welcomed into their confidence, and next to be set off laughing at Colombet's answer to my opening question, 'Why now for the Beethoven cycle?' is a glorious surprise.
To read the full article, in which the members of the Ébène Quartet talk about the group's 20th anniversary and discuss their current Beethoven project, as well as the challenge of finding a new violist, click here to log in or subscribe.
The January 2020 digital magazine and print edition are on sale now.