Bruce Hodges hears the performance from the Perelman Theater in Philadelphia's Kimmel Center on 14 October 2022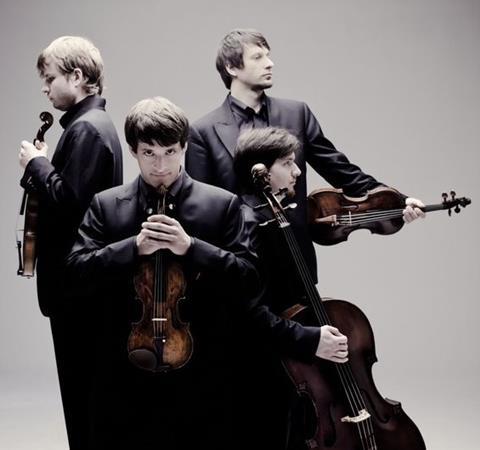 Like hummingbirds alighting on their strings, the four members of the Apollon Musagète Quartet opened Schubert's Quartet in D major D94 with the most delicate touch imaginable. That gossamer landing was repeated throughout the work's movements, coupled with finely gauged tonal balance, for a reading that might be a litmus test for performances of the composer's works. The B flat major Quartet that followed (D36) was gutsier, though still infused with Viennese refinement.
And the ensemble – all standing except the cellist – sounded splendid in the intimate Perelman Theater, its tiers placing almost all audience members in close proximity to the artists.
But arguably, the prize came after the interval, when Garrick Ohlsson joined the foursome for Shostakovich's eerie, skeletal Piano Quintet. In the first movement, Ohlsson led the initial charge with fervour, before the prayerful second-movement fugue, a long muted sequence with the strings alone.
In the savage Scherzo, the strings drilled the rhythms with robotic precision – like four lieutenants underlining the score's harsh implacability – coupled with stinging piano accents. The opening of the fourth movement, with its lonely violin melody over gentle cello pizzicato, was exquisitely done.
And then the finale arrived, growing ever more calm, as if energy – perhaps life itself – were gradually being leached away. The packed opening-night audience was respectfully ever so quiet, then burst into applause and cheers, bringing back the musicians for multiple ovations. An encore might have been welcome, but after this, what?
BRUCE HODGES