Edward Bhesania pays a visit to London's Wigmore Hall for the recital of on 19 February 2023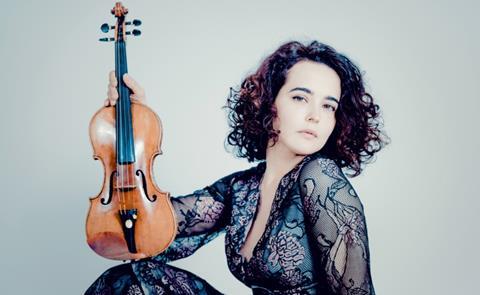 Alena Baeva (violin) Vadym Kholodenko (piano)
Wigmore Hall 19 February 2023
It's been some years since I've heard a Sunday-morning coffee concert at the Wigmore Hall and, judging by this one, I've been missing out. Russian-born Alena Baeva was joined by her regular recital partner Vadym Kholodenko for compelling performances.
A warm breeze blew through the opening trill of Beethoven's Violin Sonata in G major op.96, and this level of care and listening continued throughout the recital. Beethoven's slow movement inspired eloquent playing, subtly controlled by a high bow arm. With its grace and gentle swing, the central Trio of the Scherzo contrasted well with the movement's outer sections.
In Valentin Silvestrov's Lullaby from the third cycle of Melodies of the Moments, Baeva traced the heart-wrenching threads back to Schumann and Mahler without ever forgetting the impact of a simple idea sincerely expressed. The barely audible pizzicato close led directly into the shimmering piano opening of Schubert's Fantasie D934, over which Baeva cast a magically suspended melody, which in turn contrasted beautifully with the exuberantly dancing final section. Of course, it helps if your duo partner is, like Kholodenko, a Van Cliburn Competition winner, and your partnership, like theirs, spans over 20 years. Good to know a spot to find world-class music-making (and a coffee or sherry), all before lunchtime!
EDWARD BHESANIA