Expansive and expressive playing in a musical journey towards hope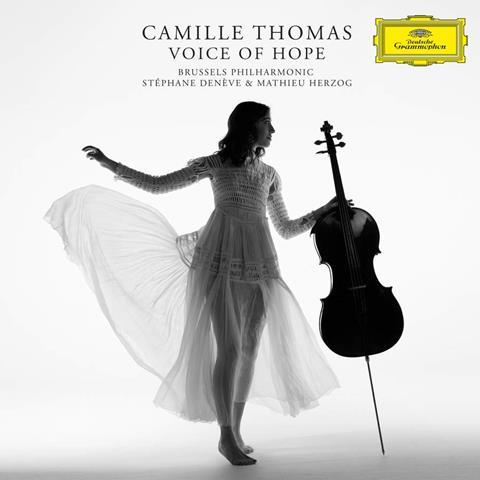 The Strad Issue: September 2020
Description: Expansive and expressive playing in a musical journey towards hope
Musicians: Camille Thomas (cello) Brussels Philharmonic Orchestra/Mathieu Herzog, Stéphane Denève
Works: Say: Cello Concerto 'Never Give Up'. Bruch: Kol nidrei op.47; music by Ravel, Gluck, Purcell, Wagner, Dvořák, Williams, Massenet, Donizetti and Bellini
Catalogue Number: DG 483 8564
Premiered in Paris in 2018, Never Give Up, the cello concerto written by Turkish composer Fazil Say in response to terrorist attacks in Paris and Istanbul, has been played in many concerts by its dedicatee, Camille Thomas. It forms the centrepiece of the Belgian cellist's second album for DG, and one can see why, in the words of Thomas, it always arouses 'incredible emotion' in the audiences.
As a piece it is both contemporary and approachable, speaking very directly to the listener, a big percussion section imitating both Kalashnikovs and water lapping on a lakeside. Thomas gives an interpretation at once imaginative and committed, from its declamatory opening, through her evocative, keening solo on the shores of the Bosphorus to the dancing celebration at the end. A full, warm recorded sound brings out the rich tones of her loaned 1730 'Feuermann' Stradivari.
Of the other songs, prayers and laments which make up the disc, Bruch's Kol nidrei is particularly transporting, with Thomas' playing passionate and expansive. Herzog draws an exotically opulent sound from the orchestra in the 'Kaddish' from Ravel's Deux mélodies hébraïques, accompanying Thomas' very free and expressive bowing and tonal shading. In Purcell's Dido's Lament, Thomas' languid cello line high up above the massed strings, is gloriously effective.
JANET BANKS