Jim Woodhouse reviews a collection of papers by Australian luthier and researcher Graham Caldersmith, from the 1970s to 2000s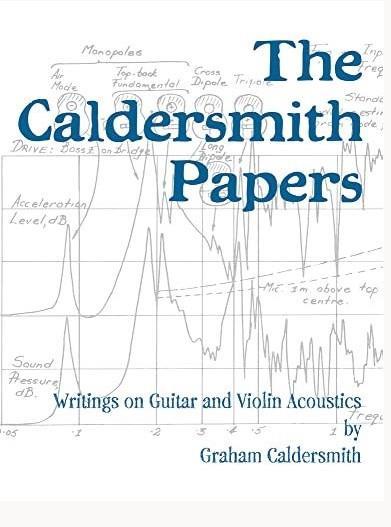 The Caldersmith Papers: Writings on Guitar and Violin Acoustics
Graham Caldersmith
194PP ISBN 9780648588016
MusicBooks Press $34.95
This is both a memorial to an interesting character and a kind of time capsule of the scientific approach to instrument making just before the computer age changed the way everything was done. Graham Caldersmith was an Australian guitar and violin maker who had a scientific training and took a keen interest in applying acoustical measurements and interpretation to add an additional set of tools to his workshop equipment. I have clear memories of his engaging personality and enquiring mind, from a visit he made to Cambridge in the late 1970s.
This book is a reprinted collection of Caldersmith's writings covering roughly the period 1970–2000, reflecting his various interests in guitar and violin design, acoustics and innovation. Some are written for a technical scientific audience, but most are aimed at instrument makers or general readership. The editor has done a good job of grouping the contributions by topic and then by chronology to impose some order on the book, but still the disparate nature of the material makes this something that most readers would want to dip into, rather than read from cover to cover. There are things here to please acousticians, things to please violin or guitar makers, things to please Australians – and things that will bring a whiff of nostalgia to anyone of a certain age.
One lifelong interest of Caldersmith is well represented in the book – the design, construction and promotion of innovative stringed instruments. Perhaps inspired by the Carleen Hutchins octet of acoustically scaled violins, Caldersmith created a family of scaled classical guitars. The first step was a baritone model, tuned a 5th lower than a standard guitar. We learn that he received encouragement from John Williams based on his prototype instrument, and went on to add a bass and a treble model, framing the baritone and standard guitar to form a quartet. He also turned his guitar maker's eye on the design of the violin, and created a family of novel bowed instruments, the 'Almas', designed to place the major resonances in a similar place in the playing range to what is found in guitars.
The most substantial block of technical acoustics concerns the behaviour of guitars. Although the hand-annotated graphs, drawn by an old-style chart recorder, look rather quaint now, Caldersmith's understanding of how the first few resonances of a guitar body work to turn the energy from the strings into sound is quite complete and modern-sounding. It comes as something of a surprise to realise how little our understanding of this scientific question has changed since the 1980s – in part because of the insightfulness of his contributions.
One theme running through a lot of the technical material is the behaviour and selection of wood for instrument making. Caldersmith was a great advocate of Australian native timbers. This sustainability-flavoured theme is typical: in many ways he was ahead of his time. Not many instrument makers in the 1980s had an acoustical measurement set-up in their workshop, but nowadays there are a number of high-profile makers who routinely do measurements. Indeed, some of them present technical papers at conferences and write software packages for instrument measurement. They have inherited the spirit of Graham Caldersmith and other pioneers like him.
JIM WOODHOUSE