Persuasive performances of music by a figure banned by the Nazis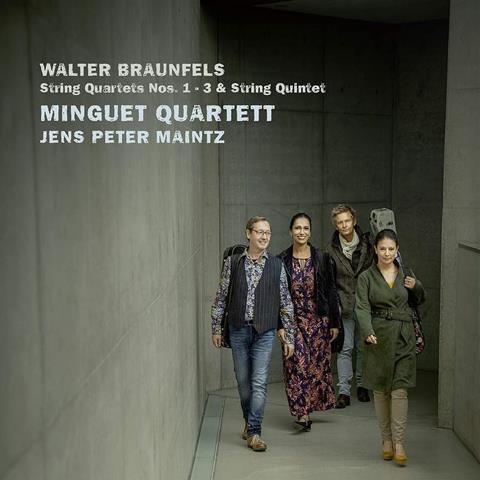 The Strad Issue: December 2022
Description: Persuasive performances of music by a figure banned by the Nazis
Musicians: Minguet Quartet, Jens-Peter Maintz (cello)
Works: Braunfels: String Quartets nos.1–3; String Quintet
Catalogue number: CAvi-music AVI8553018 (2CDs)
No one can have felt life's ironies more bitterly than Walter Braunfels himself: in 1933 the Nazis had effectively ended his career by placing him on their list of banned composers. Born a Jew, he had converted to Christianity and fought on the frontline during the First World War. His three sons were then sent to fight for the Nazis, and only two came back. Meanwhile Braunfels kept writing, and no wonder if, in 1944, the First Quartet does not always succeed in slipping free of a professionally crafted, contrapuntal knottiness, for all that he drew its themes from an epic religious opera, Verkündigung, written in the mid-1930s.
In fact any of the music here could have been composed a quarter of a century earlier. Also from 1944, the Second is more distinctive, sharing a heroic–tragic goal (and at least one head-motif) with Beethoven's 'Rasumovsky' no.1. The scherzo still suffers from a tendency to go round in circles, exacerbated here by taking every repeat, compared with the Auryn Quartet on CPO. By the time of the Third Quartet from 1947, Braunfels had rediscovered the voice of his successful orchestral music through a tauter form and the angular melodic profile of Schoenberg's Expressionist period.
The wartime String Quintet in F sharp minor uses the second cello to introduce a late-Straussian opulence to the harmony. Ilya Gringolts and his colleagues (on Profil) pile on the late-late-Romantic agony and ecstasy; the Minguet's experience with the quartets gives these players the edge. A Bartókian astringency to their sound serves them (and the music) well in building the paragraphs of the Brucknerian Adagio, and they never press the angst button too hard or too soon. Solid, closely miked radio-studio engineering.
PETER QUANTRILL