Ardent readings put Juon's viola music in the spotlight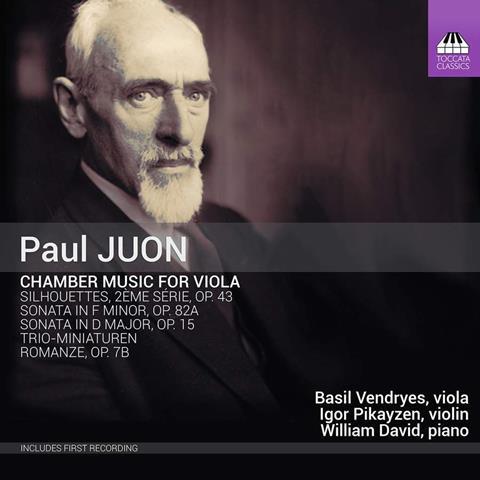 The Strad Issue: August 2022
Description; Ardent readings put Juon's viola music in the spotlight
Musicians: Basil Vendryes (viola) Igor Pikayzen (violin) William David (piano)
Works: Juon: Sonatas: in D major op.15, in F minor op.82a; Romance op.7a, Silhouettes op.43, Trio-Miniaturen
Catalogue number: TOCCATA CLASSICS TOCC0389
Born in Moscow to Swiss parents, Paul Juon (1872–1940) taught composition at the Berlin Hochschule, from which he had graduated, following earlier studies in Moscow with Arensky and Taneyev. His music provides an intriguing mix of Russian-inspired melodic material given a thorough formal work-out in the Germanic manner.
Juon's D major Viola Sonata (1901) is an excellent example of his compositional ways. A rousingly Tchaikovskyan theme soars in the viola above pulsating piano syncopations sets the work in motion. There's a Brahmsian quality to elements of the writing, particularly evident in the slow movement. This is replaced, in the finale, by a Slavic accent.
From over 20 years later comes the F minor Sonata, an idiomatic arrangement by the composer of a clarinet work conceived in one multi-sectional movement rich in rhythmic legerdemain. The Romance op.7b, excerpted from Juon's First Violin Sonata, is one of those insidious tunes that, once heard, is difficult to get out of one's head.
Basil Vendryes, long-time principal of the Colorado Symphony Orchestra, draws a well-focused, attractive tone from his 1887 Ceruti viola and is an engaging advocate of this music. In complete musical accord with pianist William David, his clear-headed readings gently underline this composer's special qualities. The duo is joined by the stylish Igor Pikayzen for two series of vignettes redolent of the salons from pre-revolutionary Russia, making a lovely conclusion to this well-recorded recital.
CARLOS MARÍA SOLARE