Ukrainian-American violist Matthew Cohen joins the ensemble for its 20th anniversary season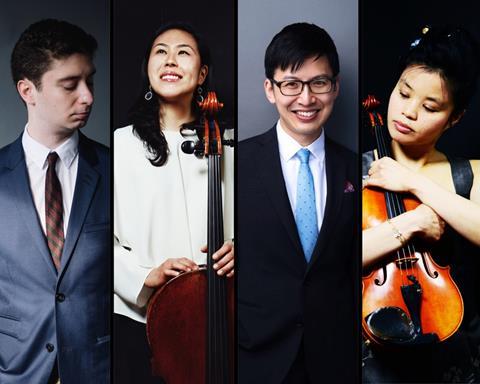 Read more news articles here
The Formosa Quartet has announced the appointment of Matthew Cohen as its new violist. Cohen replaces Cheyen Brian Chen, who has departed to follow new musical pursuits.
'From the very first time that I played with the Formosa Quartet, I could tell that there was something incredibly special there,' said Cohen on his appointment. 'Making music together came so naturally, and there was such a wonderful sense of mutual respect and trust. Wayne, Jasmine and Deborah are all such absolutely amazing musicians and people; it has been so inspiring getting to know them and making music with them.
'While I was new to the group and they'd played together for years, I felt such a sense of openness and willingness to accept me into the group that I felt immediately at home. I couldn't be prouder to be joining the Formosa Quartet and am so excited for our journey together!'
'The Formosa Quartet is excited to embark on their new musical adventures with Matthew and thanks Cheyen for his invaluable contribution to the ensemble,' said the members of the quartet, comprising violinists Wayne Lee, Jasmine Lin, and cellist Deborah Pae, in a statement.
Cohen is a former prizewinner at the Primrose International Viola Competition and the Citta di Cremona International Viola Competition in Italy. He has performed throughout the United States and Europe as a soloist with ensembles including the Gstaad Festival Orchestra, I Virtuosi Italiani, the Juilliard Orchestra, Oregon Sinfonietta, and Symphony in C, and has appeared in recital at New York's Carnegie Hall.
He is a graduate of the Juilliard School's master of music programme, where he received the Kovner Fellowship. Cohen earned his bachelor of music degree from Cleveland Institute of Music and received an artist diploma from Colburn Conservatory where he studied with Misha Amory, Heidi Castleman, Paul Coletti, Jeffrey Irvine, and Cynthia Phelps.
Cohen has served as a member of the chamber music faculty at the National Youth Orchestra of Canada and the Heifetz Institute and is the co-founder and Artistic Director of Opus 71 Concerts, a multidisciplinary concert series near New York's Lincoln Center.
Celebrating its 20th anniversary this season, the Formosa Quartet were winners of the first prize and Amadeus Prize at the Wigmore Hall International String Quartet Competition in 2006. Since then, the quartet has gone on to enjoy residencies at institutions worldwide, as well as champion works by composers of Taiwanese and Indigenous origins and commission new works for string quartet.
The members of the Formosa Quartet perform on violins by Andrea Guarneri (1662) and Joseph Curtin (2001), a Peter Westerlund viola (2014), and a Vincenzo Postiglione cello (1885).