Operatic arrangements make for dazzling acrobatics on the cello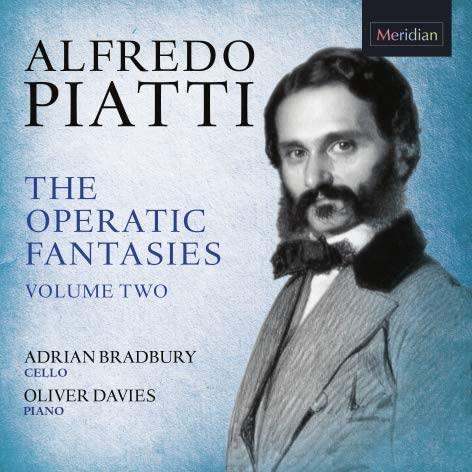 The Strad Issue: September 2020
Description: Operatic arrangements make for dazzling acrobatics on the cello
Musicians: Adrian Bradbury (cello) Oliver Davies (piano)
Works: Piatti: The Operatic Fantasies, vol 2: Introduction et Variations sur un thème de Lucia di Lammermoor; Rondò sulla Favorita; Souvenir de l'opéra Linda di Chamounix op.13; Parafrasi sulla Barcarola del Marino Faliero; Rimembranze del Trovatore op.21; Capriccio sur des Airs de Balfe
Catalogue Number: Meridian CDE 84659
Today Alfredo Piatti is best known for his Twelve Caprices, which serve as both pleasant studies and an excellent workout for cellists. Equally, he was a prolific pioneer of early music editions and gave neglected repertoire a new lease of life. From a tender age Piatti was immersed in opera, and thus perfectly placed to disseminate its most popular melodies through these Fantasies which dazzle with cello virtuosity, much like a circus acrobat.
But electing to perform 72 minutes of intense cello pyrotechnics, from challenging consecutive octaves to cascades of double-stops, false harmonics and stratospheric leaps is akin to a cello hard-labour sentence. Inevitably a few passages are not quite so convincing given the relentless quantity of challenges, particularly in Rimembranze del Trovatore (7'00 and 8'35) and towards the end of Parafrasi sulla Barcarola (8'12).
Furthermore, these performances need to offer far more defined etching of dynamics, characterisation and voicing in the string-crossing passages, and the recording generally favours the piano too strongly at the expense of the cello. The limited harmonic language of the piano writing ultimately diminishes the potential for variety, and hence this CD is best suited to judicious sampling. Having said all of that though, Adrian Bradbury delivers a heroic feat of cello playing in tackling these viciously taxing works.
JOANNE TALBOT