Gingold spoke about his period of training with the Belgian master in The Strad's April 1983 issue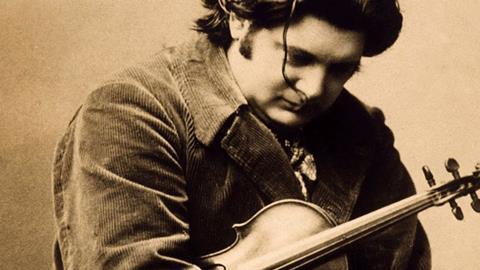 When the 18-year-old Gingold came to audition for Ysaÿe (pictured), having confidently prepared the first movement of the Brahms Violin Concerto, he was full of enthusiasm. Ysaÿe did not share that enthusiasm, however, and said calmly, 'Will you please play a G major three-octave scale for me?' Momentarily the young man was stunned. 'I had all my faculties concentrated on the concerto. But I did what he asked and this followed by scales in every conceivable manner of bowing - it seemed an eternity!' Finally he was allowed to play the Brahms, and, after some encouraging words about his talent, the master agreed to take him on as a pupil.
'Ysaÿe always had his violin in his hand and was able to play everything,' said Gingold. 'He could accompany anything on his instrument in such a manner that one felt he had a full orchestra supporting him. He also had a fantastic memory and never used his music for anything. I never recall him playing a wrong harmony in any of his accompaniments. Once I remember when he was playing the Adagio from the Bach E major Concerto it was like being accompanied on an organ, so heavenly was the sound emanating from his del Gesù.
'He was adamant about students using the fingering he designated in his own parts. His fingerings were highly personal. Even as a student I realised they were his own medium for expressing himself but I didn't dare change them. Of course, over the years I have had to change them not only because they were personalised but because violin playing has also changed. His downward glissandos were very audible as are the downward glissandos of Hubermann - another very great man.
'Ysaÿe always brought out the innate qualities in all of us and yet at the same time would point out any faults that were apparent, which certainly were not apparent to the students themselves. His influence has remained with me all my life - his beautiful conception of music, and his belief in the long line, as far as phrasing was concerned. He believed in beauty of sound. Never was the violin treated brutally. He believed in clarity. And then there was his rubato which is impossible to describe in words. You could put a metronome beside him and whatever he did between the bars, he would come out metronomically correct all the time.'
Interview by Margaret Campbell
Read: Violinist Joseph Silverstein on studying with Josef Gingold and Efrem Zimbalist
Read: Poetic injustice: Ysaÿe
From the Archive: September 1901
1

2

Currently reading

Violinist Josef Gingold on studying with the great Eugène Ysaÿe

3

4

5

6

7

8