Thomas Kemp shares some key facts about the 20th-century composer and violinist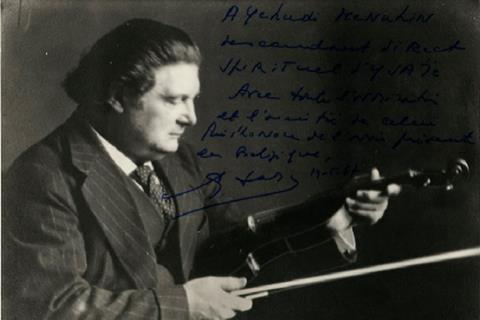 1. Eugène Ysaÿe (1858-1931) played in the first ever concert at Wigmore Hall - originally called the Bechstein Hall - on 31st May 1901
He performed alongside the pianist and composer Ferrucio Busoni in a programme that included movements of the Bach B Minor Partita, BWV.1002, Bach Sonata in F and Beethoven Romance in G.
2. Ysaÿe played on a Guarneri del Gesù (1740) for most of his career
He had a label inserted in 1928 when it was being repaired by Joseph Hel, a luthier in Lille: 'Ce Del Jesus fut le fiddle compagnone de ma vie' - 'This violin was the faithful companion of my life.' Subsequent owners have included the celebrated conductor Charles Munch and violinist, Isaac Stern. The instrument is currently owned by the Nippon Music Foundation.
3. Ysaÿe also owned the 'Hercule' Stradivarius (1734) which was stolen from his dressing room whilst performing in Russia in 1908
The instrument was recovered in Berlin in 1947. Henryk Szeryng was a subsequent owner and he gifted the instrument to the City of Jerusalem in 1972 for the use of the concertmaster of the Israel Philharmonic Orchestra. Ysaÿe preferred the Guarneri to the Strad as he apparently found it more responsive and easier to play.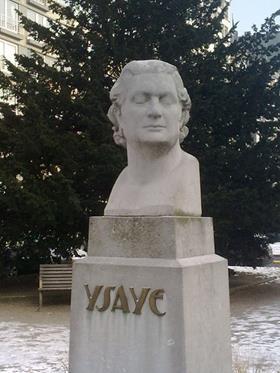 4. Ysaÿe was a major interpreter of contemporary music
He championed works by Franck, Chausson, D'Indy, Faure, Saint-Saëns, Debussy, Reger, Enescu, Strauss and Elgar, and his piece Poème Élégiaque inspired Ernest Chausson to compose his famous Poème for Violin and Orchestra, which is dedicated to Ysaÿe. César Franck composed his Violin Sonata in A in 1886 as a wedding present for Ysaÿe and The Ysaÿe Quartet gave the world premiere of Debussy's String Quartet on 29th December 1893 at the Société Nationale in Paris. Over 50 works were written for him.
5. Ysaÿe had no formal training as a composer
His early works are very much in the style of his violin teachers Wieniawski and Vieuxtemps while his later works are written in a post-Romantic style and include orchestral works such as the ravishing Exil Op.25 for strings and Harmonies de Soir for String Quartet and Orchestra Op.31. Ysaÿe increasingly composed, taught and conducted as his health and playing deteriorated with the ravages of diabetes.
6. Ysaÿe wrote an opera Piére li houyeû in 1931
He also wrote the libretto which is in Walloon - the dialect he spoke as a child. He collapsed at the first rehearsal and listened to the performance at the Opera De Liège on 4th March 1931 from his hospital bed. He died a few weeks later. After his death, he lay in state for three days and was given a lavish funeral. A group of his students performed his Poème Élégiaque at the funeral service, which was held at La Sainte Trinité Church, Brussels.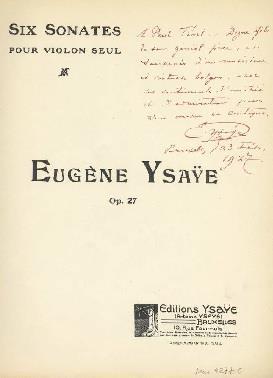 7. Ysaÿe dedicated his Six Sonatas for Solo Violin, Op.27 to different famous violinists, capturing their styles in each piece
The dedicatees are Joseph Szigeti, Jaques Thibaud, Georges Enescu, Fritz Kriesler, Mathieu Crickboom and Manuel Quiroga. Ysaÿe developed a system of showing how to play these works, which includes directions for right and left hands and gives fascinating insights into his approach as a violinist. Carl Flesch describes him in his Memoirs as 'the most outstanding and individual violinist I have ever heard in my life.' Flesch also thought that Ysaÿe's unorthodox bow hold contributed to his declining bow control at the end of his career.
8.Ysaÿe was a successful conductor
He turned down the position of Music Director of the New York Philharmonic in 1898 but accepted the position of Music Director of the Cincinnati Symphony, which he conducted between 1918-1922. There are recordings of his conducting, including works by Delibes, Maillart, Massenet, Chabrier, Offenbach and Rimsky-Korsakov.
9. Ysaÿe was an influential teacher
He was a Professor at the Brussels Conservatoire from 1886-1898 and taught throughout his career. His many students include Joseph Gingold, William Primrose, Matthieu Crickboom (who was second violin in his quartet), Oscar Shumsky, Nathan Milstein, Jascha Brodsky and Louis Persinger.
10. A 7-year-old Yehudi Menuhin, who studied with Louis Persinger in San Fransisco, played Lalo's Symphony Espagnole to Ysaÿe
In the preface to Ysaÿe's biography - His life, work and influence - Menuhin describes the massive influence Ysaÿe had on a generation of musicians and his role as one of the last great Romantic heroes of the violin: 'His sense of style in music was inseparable from his keen sense of style in literature and life itself…Surely no more complete a man has ever been known to make a career of violin playing?' Ysaÿe's playing, teaching, composing and conducting had a lasting effect on his contemporaries and those that followed and his music lives on in the repertoire today.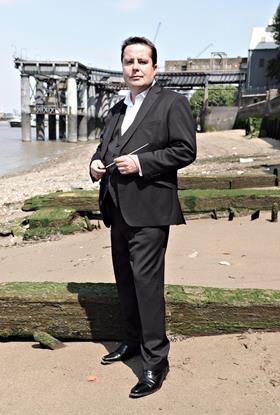 Thomas Kemp works worldwide as a conductor and violinist and is a highly acclaimed recording artist. He is the founder and artistic director of Music@Malling, an international festival founded in 2011, that brings outstanding artists to historical venues in and around West Malling, Kent. The festival programmes the works of contemporary composers alongside classical, jazz, world, film and vocal music and has a year-round outreach programme, which engages hundreds of young people in creative activities and participatory events. Here is a link to the festival website, where tickets are on sale. This year's festival dates are 16th-29th September.
From the Archive: September 1901
1

2

3

4

5

6

7

Currently reading

10 things you need to know about Eugène Ysaÿe

8