As a former Suzuki student, violinist Hilary Hahn shares her earliest memories of lessons and how they shaped her into the musician she is now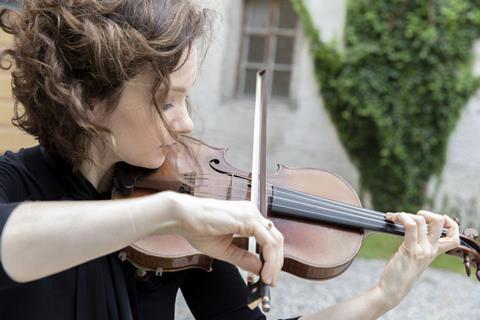 The following extract is from The Strad's September 2021 issue feature 'Suzuki Teaching: Every child can'. To read it in full, click here to subscribe and login. The September 2021 digital magazine and print edition are on sale now

What are your earliest memories of Suzuki lessons?
I took lessons and group classes at the Peabody Institute starting when I was almost four. I did about a year and a half in the official programme, and then had some overlap because I started studying with Klara Berkovich, who also worked with the Suzuki Method. For the first group class I was uncomfortable being on stage, so I just stayed in the wings and pretended to be on stage. By my second or third group class, I'd gained so much confidence that I thought, 'Why isn't the teacher asking me to do the solo?'
Many Suzuki teachers speak about the importance of the social aspect of classes. How was that for you? I'm guessing that you might have stood out as the star of your class…
No! I don't think I developed spectacular violin skills noticeably different for my age until I was a few years in. Suzuki was more like planting seeds for my relationship with music. When I look back at it as a grown-up who plays with other people and as a soloist, who practises and listens to music – all of that was part of the landscape from the very beginning.
You recently made the recordings for the latest editions of the first three Suzuki books. Can you tell me about that?
It was really great to have the experience of revisiting the pieces, and having the ultimate experts in the booth to give me feedback. I saw a lot in the method that I hadn't noticed before, like how the techniques are gradually added in. I really tried to be mindful of the student's level of playing. I tried to play in ways that were my playing, but more relatable and not too overwhelmingly layered. I wanted to speak directly to the student. Thinking about all the students and about how the recordings can help was a really meaningful experience.
Is there anything you still do in the practice room today that you learnt from Suzuki lessons?
I don't think I would remember enough. My assumption would be there is something, but I couldn't pinpoint it.
I've been doing a '100 Days of Practice' project, which I've shared online. I've seen in the comments the common stressors of practice. It's almost like you're supposed to go into a practice room, look at yourself in a mirror, pick out all the things that aren't going to measure up, and then just stay in that room until you've fixed yourself. That is pretty cruel, I think. I'm not going to accomplish more by putting pressure on myself than I am by just chipping away at it. I'm proud of a day when I do one thing that I wanted to accomplish just a bit better. If you add it up to 365 days in a year, that's many tiny achievements – and that's huge.
Interview by Samara Ginsberg
Watch:Violinist Hilary Hahn performs Sarasate's Carmen Fantasy
Read: Suzuki teaching: Every child can
Read: 6 tips for teaching young violinists by Suzuki instructor Teri Einfeldt
<div
This article was published in the September 2021 Suzuki issue

How the intuitive teaching method has become an unparalleled success around the globe since its founding in 1945. Explore all the articles in this issue

More from this issue…