In this extract from September 2012, Laurie Niles outlines the core elements of the Suzuki Method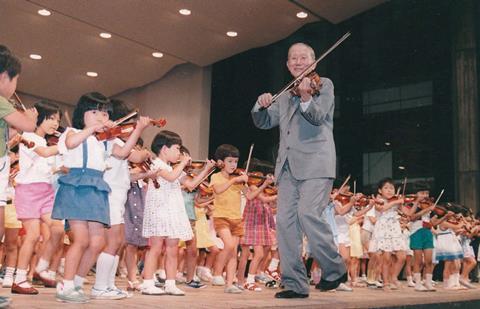 The following is an extract from the article 'Global impact of Suzuki: The method and the movement' which appeared in the September 2012 issue. To read the full article, click here
WHAT IS SUZUKI?
The Suzuki method grew from the educational philosophy of Shin'ichi Suzuki, born in Nagoya, Japan, in 1898. His struggle to learn German gave him the idea that sparked his philosophy of teaching: that every child fi nds it easy to learn their native language. Suzuki's 'mother tongue' approach to teaching music builds on the principles of language acquisition. The method started as a way to teach children to play the violin, but now encompasses viola, cello, piano, bass, flute, recorder, guitar, harp, voice, organ, mandolin and early childhood education. Suzuki's seminal book of education philosophy is called Nurtured by Love. Here are some aspects of the Suzuki method: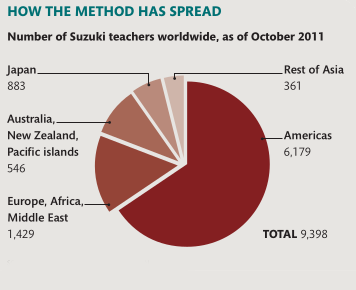 Early start
Children's brains are most open to learning new mental and physical processes when they are very young. They start learning language from day one; likewise with music. In the Suzuki method, children can start learning to play instruments from the age of two or three.
Environment
Children learn to speak while immersed in an environment of language, so the Suzuki method aims to provide an immersive musical environment. Thus, Suzuki students are required to listen regularly to recordings of the pieces they are playing.
Parental involvement
A parent attends the child's lessons and is treated as 'the home teacher'. Parents are expected to help their children practise at home, modelling good technique as they would model correct language. As students grow older, the parents' involvement decreases.
Repetition
Students are never finished with a piece, but keep playing and reviewing repertoire as they learn new techniques. In this way, they can build up their 'vocabulary' of technique.
Group lessons
Children practise their language skills by talking with friends of their own age. Similarly, they can develop their musical talent by playing with other young people who are practising the same music. Group lessons build motivation and community spirit, as children make new friends and witness other pupils' accomplishments. Students take both private lessons and group lessons.
Whole person
'Teaching music is not my main purpose,' Suzuki said. 'I want to make good citizens — noble human beings. If a child hears fine music from the day of his birth, and learns to play it himself, he develops sensitivity, discipline and endurance.'
Read: Global impact of Suzuki: The method and the movement
Read: 'Planting seeds for my relationship with music' - Hilary Hahn and the Suzuki method
Read: The Suzuki approach to tone: Every tone has a living soul – Shinichi Suzuki