In this extract from the September 2021 issue, violinist and teacher Helen Brunner shares personal reminiscences of working on tone with Shinichi Suzuki
The following extract is from The Strad's September 2021 issue feature 'The Suzuki approach to tone: Every tone has a living soul – Shinichi Suzuki'. To read it in full, click here to subscribe and login. The September 2021 digital magazine and print edition are on sale now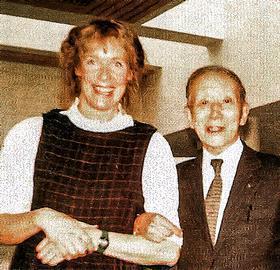 From the first moment I heard Shinichi Suzuki's violin students play, I was absolutely stunned. It was in New York in 1967. Advanced concerto repertoire was being played by young children whose tone and energy were so powerful that I was blown away. Since then, my life's mission has been to understand the philosophy behind Suzuki's approach to tone and to learn how to teach that sound myself.
It starts with 'tonalisation', the word used by Suzuki for his violin tone exercises. Vocalisation exercises were familiar to him, as his wife was a singer, but he felt that the study of tone was an aspect missing from violin pedagogy. So began his search to find the heart of every note and the best natural tone in every violin. He understood that beautiful tone is determined by beautiful posture, so we have to start by working on our primary instrument: ourselves. It depends on us.
Suzuki called his music school the Talent Education Institute – it was an institution of musical learning through the development of our own talent and potential. 'Beautiful heart, beautiful tone,' he would say. Knowing how to develop your own life force was the essence of his teaching. When I was a trainee teacher of the Suzuki Method, I witnessed people's sound changing, becoming miraculously beautiful.
Read: 'Planting seeds for my relationship with music' - Hilary Hahn and the Suzuki method
Suzuki's teaching methods were based on what he called the Law of Ability: Ability = Knowledge + 10,000 x practice. I was given my first tonalisation exercise when I went to study with him in Matsumoto, Japan, in 1979. It was day one, and I was instructed to hold my bow vertically in the air, without my violin, my thumb angled correctly and the tip of my little finger on the top of the bow stick. I then moved that elbow and hand back and forth across my body. 'Please practise this 10,000 times, with steady tip,' he said, with a smile. The lesson lasted about four and a half minutes.
Over the next few days, working diligently at Suzuki's legendary 10,000-times training, with my bow in the air, I could feel my thumb muscles engaging and strengthening, and I was also aware of the power required from my little finger. Not wanting to strain anything, I took my time – spending 3 hours and 40 minutes on it over three days.
At my second lesson, after my demonstration, Suzuki mentioned that he could still see a little unnecessary movement at the tip of the bow. 'Another 10,000 times, please,' he said, laughing.
On continuing this practice, the whole of my right arm and deltoid muscles were activated. Suzuki's approach was closely aligned to the Alexander technique, with which I was familiar, so I kept breathing and releasing any resistance that arose in my body. There was a new feeling of power in my bow hold. The strength was coming from the whole of my back, and my head and neck became freer. I was standing up straighter.
At the third and final lesson, Suzuki wanted me to speed up the movement: 'I can't hear the swish of the bow through the air.' So, it was another 10,000 times! However, with wings to fly and my violin sound having been transformed, it felt as if I had a new instrument as well as a new bow. There was power to play much nearer the bridge, with a stronger, straighter bow stroke. There was more ring and more resonance in my tone. I could feel the 'elastic' power of the bow expressing a deeper sound. It was a homecoming experience for me.
How is it possible that in only a few minutes of tuition this genius had taught me more about the art of bowing than I had learnt in several years of conservatoire training? This transformation of tone was possible simply because Suzuki knew it would be. All his trainee teachers themselves studied within this nurturing, inclusive 'every child can' culture, employing what he called the 'mother-tongue' method. There are no failures: if you can speak your mother tongue, it follows that you have the ability to play the violin very, very well.
The love and respect that Suzuki had for every trainee teacher was palpable. When you came to train with him you knew you were no exception. There was never any doubt in his mind about your potential. This kind of work was inspirational; it was nurtured by deep understanding, as he demonstrated in his influential book Nurtured by Love (1969).
Read: The Suzuki approach to tone: Every tone has a living soul – Shinichi Suzuki
Read: 'Inherently democratic' - equity and the Suzuki Method
Read: Opinion: Relaxed body, focused mind
This article was published in the September 2021 Suzuki issue

How the intuitive teaching method has become an unparalleled success around the globe since its founding in 1945. Explore all the articles in this issue

More from this issue…