Ethel Smyth's talents as a composer have long been overshadowed by her political activism and her battles for women's rights. In her 150th anniversary year, it's time to celebrate her distinctive string music, says Catherine Nelson, in this article, taken from the August 2008 issue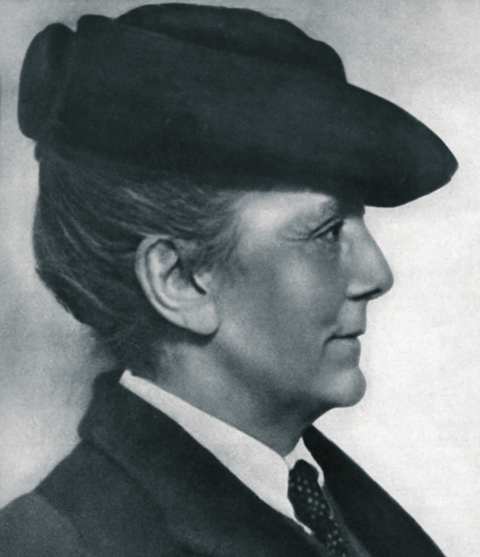 The life story of Ethel Smyth is the stuff of headlines. Born in 1858, she was a militant supporter of the British women's suffrage movement, which led to a two-month spell in London's Holloway Prison alongside her friend Emmeline Pankhurst; she was a keen mountaineer and golfer; and she fell in love with the writer Virginia Woolf at the ripe age of 71. Her compositional prowess, though no less extraordinary, tends to be overshadowed by her political activism, and her music rarely makes an appearance in the concert hall. Yet her friends and mentors included Brahms, Tchaikovsky and Clara Schumann, and her sizeable catalogue of works includes some fine string music. In the year of her 150th anniversary, Smyth the composer is at last receiving some well-deserved attention, crowned by Tasmin Little's performance in the Concerto for violin and horn at the BBC Proms this month.
Smyth was not born into a musical family, and at 18 embarked on a bitter battle with her father to be allowed to study music at a conservatoire. In her memoir Impressions That Remained, she wrote, 'That night there was a discussion at dinner as to which drawing-room I had better be presented at. Suddenly I announced it was useless to present me at all, since I intended to go to Leipzig, even if I had to run away from home, and starve when I got there.' She managed to overcome her father's prejudices and entered the Leipzig Conservatoire in 1877. The next ten years she spent in Europe, soaking up its heady musical atmosphere and gaining critical acclaim for a number of her chamber pieces.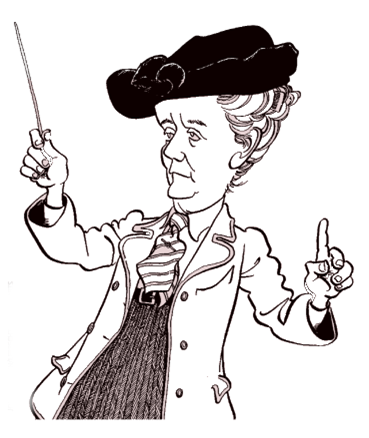 She met both Brahms and Tchaikovsky: the latter gave her encouragement in exploring her own musical identity. In 1890 she moved back to London, where works such as the orchestral Serenade began to build her reputation as a composer, and in 1892 she made her first foray into opera with Fantasio. Smyth spent many years fighting to get the opera its first performance, which finally took place in Weimar in 1898. It was a similar story for her other operas: The Wreckers, for example, was composed between 1902 and 1904, but was not performed in London until 1909, and only then with financial support from a friend of Smyth's. It did, however, garner her lavish reviews and became her best-known work. By 1902 Smyth had also embarked on her String Quartet in E minor, a work that took her ten years to complete.
But her musical life was to take a back seat to political activities in the following years, and it is the image of a fiery, impetuous and eccentric suffragette that colours the public perception of Smyth. In 1910 she attended a meeting of the Women's Social and Political Union, and was so moved by the speaker, Emmeline Pankhurst, that she vowed to give up music for two years in order to devote herself to fighting for votes for women. She wrote The March of the Women in 1911, which became the suffragette's battle anthem. Smyth's place in the political history books was cemented when in 1912 she joined more than a hundred other women in smashing windows of the homes of opponents to the suffrage movement.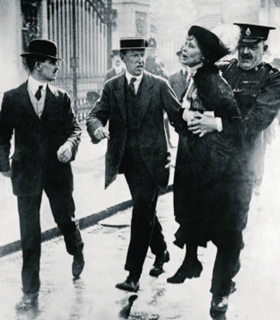 Tales of her prison stay give a vivid picture of her indomitable nature: on one occasion she led an impromptu performance of The March of the Women from her window overlooking the prison yard as the women did their outdoor exercise, conducting their singing with a toothbrush. Her controversial memoirs were also partly to blame for diverting attention from the substance of her music. In several published volumes she wrote of her love for women including the writer and artist Edith Somerville and, most famously, Virginia Woolf, with whom she had an intense friendship. Woolf paints a vivid description of Smyth in a letter she wrote to the composer in 1940: 'I suppose I told you how I saw you years before I knew you? Coming bustling down the gangway at the Wigmore Hall, in tweeds and spats, a little cock's feather in your felt, and a general look of angry energy… You reminded me of a ptarmigan – those speckled birds with fetlocks.'
This larger-than-life public persona has always threatened to eclipse Smyth's talents as a composer. Yet delving into her music reveals a voice capable of power and passion but also depth and surprising fragility. These are works that bear the hallmarks of abrilliant technician who approaches her subject with inventive flair,from the Brahms-influenced lyricism of her early pieces to the neo-Classicism and rhythmic innovation of her mature works. During the 1920s, her music, including her final two operas, Fête galante (1921–2) and the comic opera Entente cordiale (1923–4), at last began to receive numerous performances.
Smyth regularly conducted her own works and was also much in demand as a broadcaster; Smyth's first compositions for strings date back to her time in Leipzig. These early works are infused with the spirit of the late Romantic German tradition, well structured and bountifully expressive yet laced with her own distinctive charm. The Fanny Mendelssohn Quartet members played in the first CD recordings of her String Quintet op.1 (1883), Violin Sonata op.7 (1887) and two cello sonatas (1880 and 1887) alongside other chamber works by Smyth. Leader Renate Eggebrecht explains why she feels so strongly about championing the work of this bold composer:
'The way in which Smyth treats the instruments, and lets them all have an individual voice, is always a joy. I find the deep grief of the slow movement of the String Quintet particularly moving. Then there is the mature String Quartet [1912], which is a masterpiece: harmonically rich and full of rhythmic and melodic imagination.'
The quartet's cellist, Friedemann Kupsa, has particular admiration for the cello sonatas:
'Smyth was obviously well-versed in the traditional cello repertoire, such as the Arpeggione Sonata by Schubert and the Beethoven sonatas, but her music is totally her own – new, fresh and incredibly appealing.'
Enter Tasmin Little: the British violinist has made it her mission to champion the works of neglected composers, and the music of such a colourful character as Smyth has proved too tempting to resist. Little has recently performed the Violin Sonata op.7. 'You can sense her influences,' she says. 'For instance in the piano part there's a lot of very Brahmsian writing – it's big, it's luscious, and there are marvellously dark harmonies and an opulence that is worthy of Brahms for sure. Yet some of the violin writing, particularly in the Scherzo of the sonata, reminded me of the lightness of Mendelssohn. Aside from all this, there's a real sense of her individuality – she takes these influences but her voice is distinctively her own.'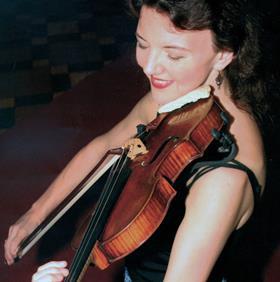 Now Little is looking forward to introducing the Proms audience to Smyth's Concerto for violin and horn on 4 August,alongside horn player Richard Watkins and the BBC Scottish Symphony Orchestra. 'I didn't actually know the concerto, but Roger Wright, director of the Proms, was aware that I'm interested in playing not just standard repertoire but unusual pieces, so he probably thought that if he asked me to play the Smyth I'd say yes, which I did! I'm not scared of playing something that I've just learnt – but it requires a certain amount of courage to stand up on the Proms stage and introduce a piece to an audience.'
I get the impression of a woman that knew her own mind – a strong,indomitable person, and someonewho wanted to break moulds

TASMIN LITTLE
The Concerto for violin and horn dates from 1927, when Smyth was almost 70, and is stylistically very different to her early works, with neo-Classical influences creeping in as well as a melancholy, chromatic lyricism. Little says: 'Playing the concerto, I really get the impression of a woman that knew her own mind – a very strong, indomitable person, and also someone who wanted to break moulds.' When we meet, Little is poring over the violin part but has not yet rehearsed with the other players. 'I'm going to be fascinated to hear how the solo violin part works into the overall texture and how she employs the orchestra. We've maybe got a balance problem with the two soloists, where the horn is naturally going to be the dominant feature from the point of view of volume – a horn can outplay a violin any time. So how will Ethel Smyth deal with the problems of balance with the horn? How will she then further deal with putting an orchestral texture underneath that? I'm looking forward to finding out.'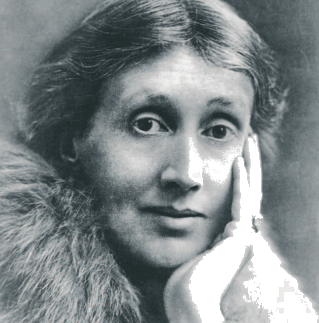 The violin part is high-wire stuff, as Little affirms: 'There's a lot of filigree writing, really complicated and difficult to bring off. There's a bit where you have a nice, long slow theme, which you can't play too slowly otherwise everyone will fall asleep, and then suddenly you have a passage of hemi-demi-semiquavers to squeeze in!' Little is struck by Smyth's adventurous sense of rhythm and metre: 'In the finale you can sense her pioneering spirit as she's doing quite bold things timing-wise. She'll set up a 2/4 rhythm but then she skips a beat and has a bar of 2/8, and then goes back to the 2/4. Or she has a 3/8 bar and then back to 2/4. This concerto was written a few years ahead of Stravinsky's Violin Concerto, and you can really hear that she's breaking boundaries. And let's face it – who else wrote a concerto for violin and horn? I can't think of a single one!'
Little and Smyth seem like the perfect fit. The violinist has a taste for the unconventional – in the past twelve months she's done performances in London's Belmarsh Prison, at a hostel for the homeless in Brighton and inside a chimney at Cockenzie Power Station in Scotland – and her personality reflects something of the composer's willingness to take risks. 'I think had I lived at the same time as Ethel Smyth I would probably have been arm-in-arm with her, fighting for the suffragette movement,' she says, 'or were she here and sitting at the table with me I'm sure that she and I would be coinciding on many beliefs about modern-day life. I recognise something of a kindred spirit. I feel a real empathy with her.'
As Little relishes her opportunity to explore Smyth's colourful world in the arena of the Royal Albert Hall, there remains the question of why the composer's output has been neglected for so long. Her opera The Wreckers is the only one of her works that has received regular airings in recent years. Conductor Odaline de la Martinez, an expert on Smyth's oeuvre, has a number of theories about why her voice is so rarely heard.
'One is that a lot of her music was published by Universal Edition in Germany. She was so upset with the Nazis that towards the end of her life she went over there and took her copyright back, and then she died and she had no publisher for her music, so there was no one to promote it. 'And of course she is a woman, and female composers tend not to be taken seriously! But another reason is that she had such a reputation as a black sheep that a lot of people judge her music without listening to it. Towards the end of her life she wrote books that were very feminist and anti-establishment and made people either fear what she wrote or ignore it. But those who take the time to explore her music realise that she is a very fine composer – one of the greatest British composers of the early 20th century.'
Read: Female violinists of 18th-century England: Portrait of a lady holding a violin
Read: Female composers: A woman's touch