Versatile American violinist awarded the €10,000 prize and concert opportunity at the Schleswig-Holstein Music Festival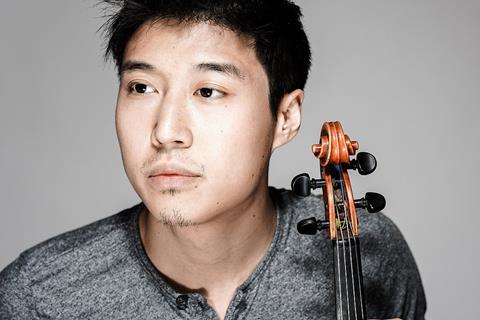 Charles Yang, a Juilliard trained violinist and member of classical crossover trio Time for Three, has been chosen as the recipient of the 2018 Leonard Bernstein Award from the Schleswig-Holstein Music Festival.
Awarded annually since 2002, the prize is decided by a jury which includes the festival's director Christian Kuhnt, Christoph Eschenbach (principal conductor of the festival orchestra), and Leonard Bernstein's daughter and son Jamie Bernstein Thomas and Alexander Bernstein.
Previous recipients include violinist Lisa Batiashvili, cellists Alisa Weilerstein and Leonard Elschenbroich, pianist Lang Lang, and most recently the principal cellist of Daniel Barenboim's West-Eastern Divan Orchestra, Kian Soltani.
'The young American violinist Charles Yang cuts across the boundaries between classical and popular music in the best Bernsteinian sense,' said Kuhnt.
'As a classically trained musician, he is familiar with the traditions of his instrument and, at the same time, masters the techniques and styles of pop music.'
Yang commented: 'I am so incredibly honored to receive this prestigious award. I have always looked up to Leonard Bernstein as one of the 20th century's most beloved communicators and to how he embraced music wholeheartedly through creativity and outreach. His approach to music transcended any specific genre and his love of collaboration and pedagogy set a new standard for the modern day musician. I strive to learn and become a better artist everyday and with this award bearing his name, I am even more inspired to do so.'
The award will be presented at a prize winner's concert on 17 August at the Musik- Und Kongresshalle Lübeck, where Yang will play the Korngold Violin Concerto with the festival orchestra under Christoph Eschenbach.