The channel includes rare footage, images and recordings of the violinist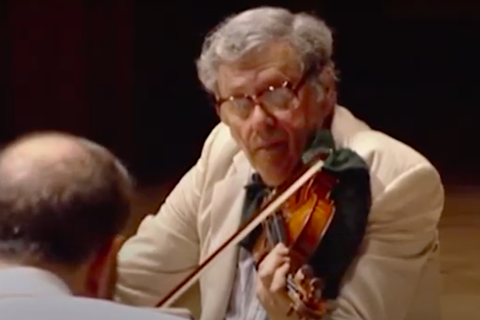 Marking a 100 years since the birth of Robert Mann, the Walter W. Naumburg Foundation has launched a YouTube Channel, featuring rare footage, images and recordings of the late violinist.
Each segment includes commentary by Nicholas Mann, Robert Mann's son, who serves as Naumburg's President and Chair of the Manhattan School of Music String Department.
Robert Mann, violinist, teacher, composer, conductor and the founder and first violinist of the Juilliard String Quartet for more than 50 years, was winner of the 1941 Naumburg violin award. He died in January 2018 at the age of 97.
Read: Robert Mann, founding member of the Juilliard Quartet, dies aged 97
Read: Founding Juilliard Quartet violinist Robert Mann awarded President's Medal
Nicholas Mann states, 'It is important to keep alive the memory of remarkable musicians such as my father. Naumburg played a huge part of his musical and professional life. The Foundation is forever indebted to his leadership and inspirational vision. As the current president and his son, I am pleased to introduce this celebration of Robert Mann's unique contribution to the musical world.'
To watch some of the videos, see below. For the full selection, click here.
Robert Mann on nature
Robert Mann on his approach to Beethoven
Robert Mann's last performance with Juilliard Quartet in 1997