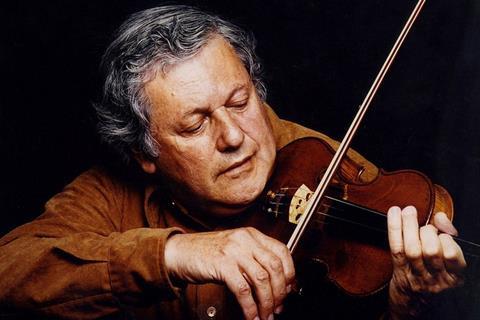 US violinist Robert Mann, a founding member of the Juilliard Quartet, died on New Year's Day at the age of 97. A teacher at both Juilliard and the Manhattan School of Music, he mentored members of the Emerson, Tokyo, Brentano and St Lawrence quartets among many others over the course of his long career.
Born on 19 July 1920 in Portland, OR, Mann had his first violin lessons aged nine, with a Belgian teacher who, he later said, 'was always drunk and got killed in a row with another man'. At 13 he began taking lessons with PortlandSymphony concertmaster Edouard Hurlimann, who convinced him that he could have a career in music. In 1941 he won the Naumburg Competition in New York; in later life he became president of the Naumburg Foundation whilehis wife, Lucy Rowan Mann, served as its executive director.
Following army service in World War II, in 1946 he was invited by Juilliard president William Schuman to form the Juilliard Quartet with two army friends, violinist Robert Koff and cellist Arthur Winograd, along with violist Raphael Hillyer. As members left, to be replaced by younger musicians, Mann constantly adapted his own playing to fit their newer styles. 'It worked wonderfully,' he recalled in 1991, 'and I have in a sense learnt to be an eternally youthful person.' Mann retired from the quartet in 1997 having been its first violinist for more than five decades. By that time he had performed approximately 5,000 concerts and more than 600 works, including more than 100 premieres,with the ensemble. It had also received three Grammy awards.
As well as teaching at Juilliard, Mann also served on the faculty of the Manhattan School of Music, and from 2012 he presented the Robert Mann String Quartet Institute. As a conductor he led ensembles such as the New York Chamber Symphony, MSM Symphony, and groups at the Ravinia, Tanglewood and Aspen music festivals. At the invitation of Seiji Ozawa, he was in residence at Japan's Saito Kinen Music Festival as a conductor, teacher and performer.
In 2014, he was the subject of a documentary entitled Speak the Music: Robert Mann and the Mysteries of Chamber Music. In the same year he was awarded the President's Medal by Juilliard president Joseph Polisi. For many years he played the 'Arnold Rosé, Viotti' Stradivari from 1718.
In a 1991 interview with The Strad, cellist Ross Harbaugh of the New World Quartet recalled his first meeting with Mann at Michigan State University: 'We had heard so much about him that I guess we were all expecting a very august presence. Instead, here came this energetic dynamo bounding in in jogging shoes, chuckling, excited about hearing us play. We all went tumbling into the studio, laughing and feeling instantly at ease.
'When we got to themusic, his understanding of the quartets was extraordinary; his words carried weight because of all those years and all those thousands of performances, and yet it was as though he was cracking it for the first time. There was a youthfulness, a youthful enthusiasm, and that in itself was inspiring. It was a spirit of discovery.'