The British violinist speaks to Peter Somerford about launching her mass education project for string players of all ages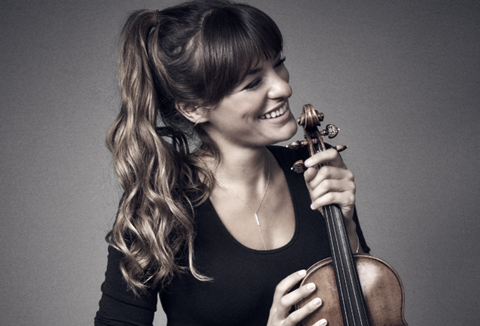 The following is an extract from The Strad's September 2020 issue in which British violinist Nicola Benedetti speaks about launching her Benedetti Sessions for string players of all standards and ages in the time of Covid-19. To read in full, click here to subscribe and login. The September 2020 digital magazine and print edition are on sale now.
Back in January when I watched Benedetti sit in on one orchestra rehearsal after another at the London sessions held at the Queen Elizabeth Hall, she kept emphasising in her pep talks to the young players the importance of physicality and breathing, the quality of the sound, the character of musical expression, the story being told, and the need not to worry about mistakes.
'One of the ideas we talk about right from the beginning of each session', she says, 'is that when people are afraid of doing something wrong they stop moving and breathing and actually being able to make any sound that has resonance and character. If you have the patience to focus on bigger objectives, such as storytelling and the character of the sound you're creating, then lots of the smaller goals will start to fit into place. I've increasingly become a fan of a more chaotic style of improvement and learning, as opposed to one that is so mollycoddled and controlled. When you produce sound on your instrument, for example, if you're desperately trying to control every inch of your bow, so much is lost in that process, especially the ability to be sensitive to how your body moves.'
Read: Benedetti Foundation launches the Virtual Benedetti Sessions
Watch: Virtual Benedetti Sessions: Grand Finale
She stresses that she's not advocating a lack of structure or methodology. 'I would never try to do away with the traditions and structures that have been built up, and I recognise that I'm able to be more free because of how much information I've absorbed. But to find a balance continuously and relentlessly is the responsibility of every teacher, and ultimately every student.'
For string teachers, the sessions were not just an opportunity to find new inspiration and exchange ideas and approaches. The workshops also represented a validation of the work that teachers are doing with all levels of student. 'There was a real sense of empowerment, and of respect for the teaching profession,' says violin and viola teacher Ruth O'Shea, who is co-director of Bath Strings Academy and coaches ensembles for the Bath and North East Somerset Music Service. 'What came across most strongly for me was the idea of being incredibly demanding of whoever you're working with, but in an atmosphere of love. The language used during the workshop was very powerful – it was about how students should feel an urge for music making, a hunger, a craving. This was echoed in the notes on intonation in the booklet the students took home, with the idea of becoming addicted to a sound that's glowing, shining and in tune. That kind of language speaks to a different part of children, one they're not used to having switched on all the time.'
This article was published in the September 2020 Nicola Benedetti issue

The British violinist on launching her mass education project for string players of all ages. Explore all the articles in this issue.

More from this issue…