Canadian cellist Bryan Cheng took home the top prize at the University of South Africa's competition last Saturday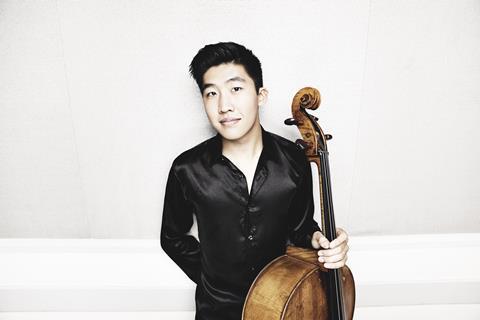 Canadian cellist Bryan Cheng scooped first prize at the Unisa International Strings Competition (Classical category), held in Pretoria on Saturday 5 February. Fresh from receiving second prize at the Geneva International Music Competition last year, Cheng took home R230,000 (approx. £11,000) following his performance of the Dvořák Cello Concerto with Mariusz Smolij and the Johannesburg Philharmonic Orchestra.
He also received two special prizes: the James Verwey Memorial Trust Best performance of a Baroque work in the first round and Best performance of the South African work by A Johnston or H Hofmeyr. Both prizes were worth R15,000 (approx. £713).
Second prize of R140,000 (£6600) went to cellist Yeongkwang Lee (South Korea), while violinist Clara Saitkoulov (France) took home third prize of R100,000 (£4700).
Best performance of a sonata in the second round went to Jisoo Kim (South Korea), while the most promising semi-finalist in the Classical category who did not go through to the final round went to Luka Coetzee (Canada).
First prize of the jazz guitar/bass category went to British/US bassist Mark Lewandowski, while second and third prizes went to Antonio Molina Moya (Spain) and Benjamin Jephta (South Africa) respectively.
Born in 1997, Cheng has enjoyed considerable performance success, including his Carnegie Hall debut at 14, his Elbphilharmonie debut in 2018 and plans to debut with the Deutsches Symphonie-Orchester Berlin at the Berliner Philharmonie this season. He studied with Yuli Turovsky and Hans Jørgen Jensen at Northwestern University and is currently pursuing his masters degree at the Universität der Künste Berlin with Jens Peter Maintz.
Cheng performs on the c.1696 'Bonjour' Stradivari cello and a c.1830 Shaw Adam bow, on loan from the Canada Council for the Arts Musical Instrument Bank as First Laureate of their 2018 Competition.