Ueno won first prize in the final round held last night, 28 October, with Bryan Cheng and Jaemin Han taking second and third prize respectively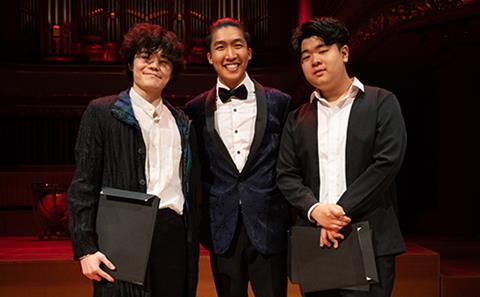 25-year-old Japanese cellist Michiaki Ueno has won first prize at the Geneva Cello Competition following his performance of the Lutosławski Cello Concerto. Ueno claims CHF 20,000 for his victory, as well as CHF 1000 for the Young Audience prize and CHF 3000 for the Concerts de Jussy prize.
Born in 1995 in Paraguay, Ueno has lived his life learning the cello internationally, studying with Iñaki Etxepare in Barcelona, Hakuro Mohri in Tokyo and since 2015 has been studying at the Robert Schumann Hochschule Düsseldorf with Pieter Wispelwey.
Second prize was awarded to Bryan Cheng (24, Canada), who also won the audience prize of CHF 1500 and the students' prize of CHF 1000. Third prize went to Jaemin Han (15, South Korea). Each of the laureates will receive an international concert tour as part of the Rose Huguenin Prize.
Additional special prizes were awarded: Min Ji Kim (26, South Korea) received the Hélène Gallay Prize of CHF 5000, while Samuel Niederhauser (23, Switzerland) received the Guy Fallot Prize of CHF 3000 and a concert.
The jury was chaired by Ivan Monighetti (Russia/Switzerland), with other members Thomas Demenga (Switzerland), Michaela Fukačová (Czech Republic), Ophélie Gaillard (France), Clive Greensmith (UK), Qin Li-Wei (China / Australia) and Shauna Rolston (Canada).
The previous edition of the cello competition was held in 2008, which was won by István Várdai.
Listen: The Strad Podcast Episode #17: Nikolaj Szeps-Znaider on competitions
Listen: The Strad Podcast Episode #14: Nicolas Altstaedt on the Lutosławski Cello Concerto
Watch: LIVE: Geneva Cello Competition Final - watch here!
Read: Ludwig Quandt: Life Lessons