Treger was the first and remains the only American violinist to win the Wieniawski International Competition in 1962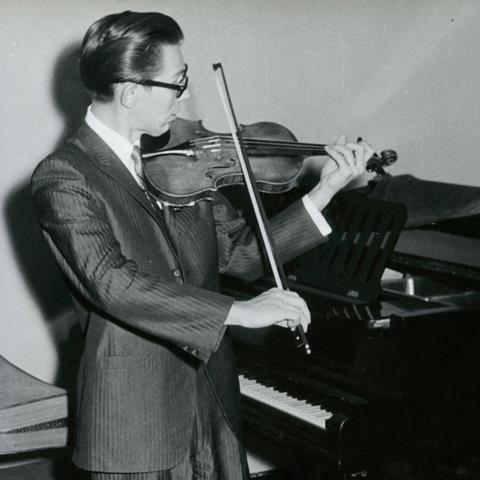 Read more news articles here
Violinist Charles Treger died on 12 January 2023 at the age of 87. He enjoyed an international career as a performer following his victory at the 1962 Wieniawski International Competition in Poznań, the first American to win in the competition's history, during the Cold War.
Treger was born in Iowa City on 13 May 1935, where he began violin lessons at the age of seven. As a child, he held strong interests in both violin and baseball. 'My mother used to worry about me a lot,' he said in an interview with the Gazette in 2020. 'I was always leaving my violin in the alley while I went to play baseball.' At the age of 16, he gave up baseball to perform with the Detroit Symphony Orchestra in its second violin section. Treger's music education included studies at the Peabody Conservatory in Baltimore, the Aspen Music School and under William Kroll, Ivan Galamian, Szymon Goldberg and William Engel.
At the age of 27, Treger travelled to Poznań to compete in the fourth Wieniawski International Competition. Held in the middle of the Cold War, his competition victory prompted a congratulatory telegram from President John F. Kennedy and ignited his international career of over 50 years, collaborating with leading orchestras and conductors, including Claudio Abbado, Seiji Ozawa and Pierre Boulez. Treger returned to Poznań in 1996 to serve on the jury for the eleventh edition of the Wieniawski International Competition.
Treger was a founding member of the Chamber Music Society of Lincoln Center, remaining active with the organisation from 1969 to 1978. As a chamber musician, he toured widely with pianist Andre Watts and collaborated with several prominent artists, including Rudolf Serkin, Emanuel Ax, Isaac Stern, Pinchas Zuckerman, Itzhak Perlman, Mstislav Rostropovich and Yehudi Menuhin.
Treger became a visiting professor at the Hartt School of Music in Hartford, CT, in 1972, where he also gave masterclasses. In 1984 he succeeded Ivan Galamian as president and director of the Meadowmount School of Music in Westport, NY. He was appointed visiting professor at the University of Massachusetts at Amherst and received an honorary doctorate of fine arts from Lawrence University in Appleton, WI, where he served as a visiting professor for several years. He also served on foundations and arts organisations including the National Endowment for the Arts and the Rockefeller Foundation.
Treger performed on the 1723 'Hartmann Stradivari violin.