In this extract from September 1997, Barbara L. Sands explores the studio of the great violin pedagogue Ivan Galamian, who taught many students that went on to have flourishing careers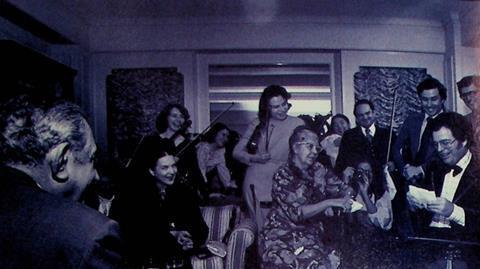 This extract is from the article 'Ivan Galamian: Hand of Steel' which appeared in the September 1997 issue. To read the full article, click here
Galamian's Manhattan studio almost immediately became a mecca for gifted students. Word of mouth via both parents and teachers produced a constant stream of young hopefuls, and even after Galamian was appointed to the faculties of both the Juilliard School and the Curtis Institute in the mid 1940s, most of his teaching continued to take place in his studio. In 1941 Galamian married Judith Johnson and in 1944 they established the Meadowmount School of Music in the Adirondack mountains, which was to become famous worldwide for its high standards.
David Nadien was one of a handful of violinists who lived with the Galamians while studying with the master. He later became concertmaster of the New York Philharmonic and held that post for some years before deciding to work as a freelance musician and teacher.
'The apartment [the Galamian's permanent home on West 73rd Street in Manhattan] had great long hallways and a lot of rooms,' recalls Nadien. 'Galamian had his studio in the front, and we - Helen Kwalwasser, Yura Osmolovsky and I - had rooms in the back where we practised three or four hours a day.
It was a relaxed atmosphere and all of us had fun. Galamian had two beautiful boxer dogs that he was devoted to, and they were a big part of the household. At one time it seemed that somebody was stealing food from the fridge. Galamian stayed up in the dark in the kitchen one night to catch the guilty party. One of the boxers had actually figured out how to manipulate the handle and open the fridge door.
'Galamian was a good musician with excellent musical taste. The students who played best did not always do what he suggested, but if they sounded well he was wise enough to leave them alone. He taught by demonstration, and one had to use a grain of salt with some of the things he said. However, he gave me a general musical approach to understanding the repertoire, which I had not received from my previous teacher, Adolfo Betti. Galamian stressed warmth and good sound and unquestionably deserves a major place in the history of violin teaching.'
Read: Ivan Galamian: Hand of steel
Read: 'Celebrate each note in terms of its beauty and excellence' - Timothy Eddy on playing expressively
Read: The 'Ševčík Colony': the global spread of a master pedagogue