Violinist Hina Maeda will receive a cash prize of €50,000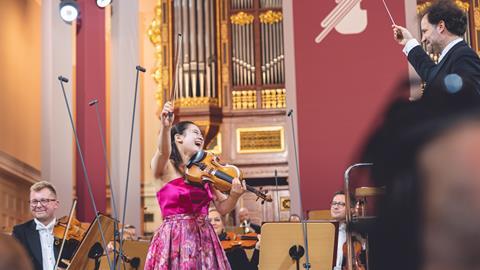 Read more news articles here
Japanese violinist Hina Maeda has been awarded first prize at the 2022 Wieniawski International Violin Competition.
The 20-year-old from Osaka, Japan will receive a cash prize of €50,000.
Violinist and critic Heather Kurzbauer said: 'As Janine Jansen once told me: "If you're going to play music, you owe it to the composer to give it absolutely everything you have." Hina most certainly does that. Her heart is well and truly on her sleeve.'
Maeda has previously been awarded prizes in the Tokyo Music Competition and the Kloster Schöntal International Violin Competition. She is currently studying with Machie Oguri, Koichi Harada and Mayuko Kamio at the Tokyo University of Music.
Second prize was awarded to 29-year-old Meruert Karmenova from Kazakhstan and third place went to 21-year-old Qingzhu Weng from China.
Distinction awards were presented to 21-year-old Dayoon You from South Korea, 25-year-old Jane Hyeonjin Cho from South Korea and 20-year-old Hana Chang from Japan/Singapore/United States.
On the panel for this year was the chair Augustin Dumay; vice-chair Daniel Stabrawa; conductors Agnieszka Duczmal and Christopher Warren-Green; French composer René Koering; violinists Barnabás Kelemen, Grzegorz Kotów, Bartłomiej Nizioł and Mariusz Patyra; violist Miguel da Silva; and cellist Jian Wang.
Stabrawa, former Berlin Philharmonic concertmaster said: 'As jury members, we're looking for an outstanding artist with proper intonation, a large and varied sound, and most importantly someone whose playing is sensitive, personal and highly unique. On a jury, or in an audience, we want to be surprised always by highly authentic and original performances'.
The first edition of the competition was held in 1935 and won by French violinist Ginette Neveu, with David Oistrakh awarded second place. Other winners have included Igor Oikstrahk, Ida Haendel, Julian Sitkovetsky and Alena Baeva.