Bashmet received the title of Hero of Labour from the Russian president on 12 June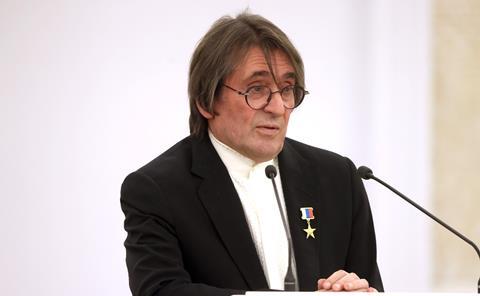 The violist Yuri Bashmet has been honoured by Russian president Vladimir Putin at an award ceremony held on Russia Day, 12 June, at the St George's Hall of the Grand Kremlin Palace.
The Hero of Labour of the Russian Federation gold medals and the National Awards are given to Russian citizens 'for outstanding achievements in science and technology, literature, and the arts, and for outstanding contributions to human rights protection'.
Bashmet has been a long-time supporter of President Putin. In March 2014, along with 86 Russian cultural figures including conductor Valery Gergiev, Bashmet signed a letter in support of Putin's position on Russia's military intervention in Crimea. Following this, he was stripped of his title as honorary professor at the Lviv National Music Academy.
President Putin said, 'Yuri Bashmet said that he is trying to persuade himself that he is indeed a hero. Today's winners, heroes of labour and heroes of Russia, do not need to persuade themselves that they are heroes and outstanding citizens of our country. It is enough that the country recognises this and thanks you for your labour, for your deeds, and for your results.'
Bashmet has had a long career as a viola soloist and conductor. He founded the Moscow Soloists in 1986 and is currently artistic director of the 'New Russia' State Symphony Orchestra.
He was born in Rostov-on-Don in 1953 and moved with his family to Lviv at the age of five. He graduated from the Lviv secondary special music school in 1971.