The Royal Welsh College of Music and Drama will present Benedetti with the honour on 8 July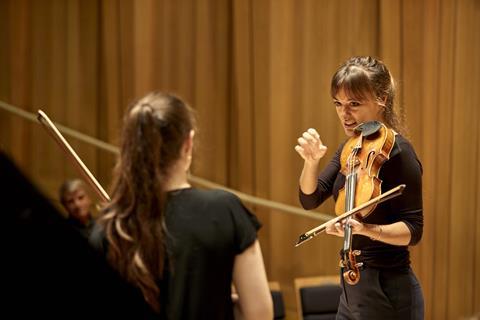 The Royal Welsh College of Music and Drama (RWCMD) has announced the recipients of its honorary fellowships for 2022, including Scottish violinist Nicola Benedetti.
The honorary fellowships will be presented at a graduation ceremony on Friday 8 July at St David's Hall, Cardiff. Chief executive of the National Youth Orchestra Sarah Alexander and trombonist Dennis Rollins will also receive honorary fellowships, in the ceremony alongside the RWCMD's newest alumni.
'This year's music fellows exemplify the spirit of our new approach to training young musicians, ensuring that not only are they developed as solo performers, but also as collaborative artists, and active, responsible contributors to wider society,' said director of music Tim Rhys-Evans.
Benedetti has has already worked with the college, inspiring young people with her music education projects through the Benedetti Foundation. During lockdown, the college percussion department worked with the violinist on her virtual Benedetti sessions, which reached over 7000 musicians of all ages and stages of expertise around the world.
The college also welcomes new fellows Paule Constable, Olivier award-winning lighting designer, Gareth Evans, film director, screenwriter and action choreographer, Anthony Matsena, performer, director and choreographer, and Kel Matsena, actor, writer and dancer.
They join RWCMD's list of fellows, awarded each year to honour artists who have achieved distinction in the creative and performing arts industries, building inspiring relationships with the college and its work.
'Our new fellows represent some of the most forward-thinking, creative and acclaimed artists in the UK and we warmly welcome them to the College community,' said principal Helena Gaunt.
'They each embody the college's spirit and ambition to lead through collaboration and innovation alongside deep craft training, nurturing an expert and inclusive community and inspiring the industry change-makers of the future.'