The Romanian viola player and composer has died at the age of 72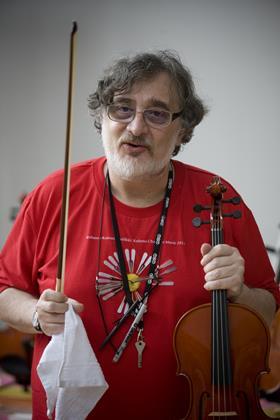 Violist Vladimir Mendelssohn has died of a rapidly progressing illness. He was a renowned international soloist, chamber musician, teacher and festival director.
Mendelssohn studied viola and composition in Bucharest. His international engagments took him to most countries in Europe, Russia, Israel, Tunisia, Japan, South Korea, Hong Kong, South America and the US. He recorded an extensive amount of chamber music as a member of the Enesco Quartet and was professor of chamber music at Paris Conservatoire, as well as teaching at the Royal Conservatory at The Hague and Folkwang Hochschule in Essen.
A prolific composer, he has produced works for solo instruments, mixed choir, chamber music, symphony and chamber orchestra. He also composed music for ballet, stage and screen. Mendelssohn had made appearances at the Kuhmo Chamber Music Festival in Finland since the 1980s, becoming the festival's artistic director in 2005.
Read: Violist Phillip Magnuson has died
Read: Paris National Conservatory of Music and Dance reinstates suspended cello teacher