Exquisite Mendelssohn still sounds fresh and joyous in familiar hands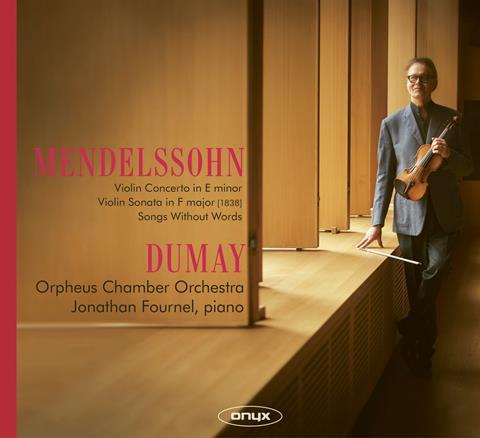 The Strad Issue: December 2021
Description: Exquisite Mendelssohn still sounds fresh and joyous in familiar hands
Musicians: Augustin Dumay (violin) Orpheus Chamber Orchestra, Jonathan Fournel (piano)
Works: Mendelssohn: Violin Concerto in E minor; Violin Sonata in F major; Songs Without Words (arr. Walter)
Catalogue number: ONYX ONYX4230
One of the most cosily held assumptions about Mendelssohn's ubiquitous E minor Concerto is that (alongside the Bruch G minor) it is a kind of warm-up exercise for the giddy heights of Brahms, Tchaikovsky and Sibelius. In fact, such is its exposed diamantine filigree, seamless cantabile and intonational iridescence, that for anyone suffering a dreaded attack of nerves, it is one of the last pieces you'd want to be playing.
It also stands apart from the German Romantic mainstream insofar as it requires ideally a silvery, pure, sweet sound: Nathan Milstein had it, so too Christian Ferras and Alfredo Campoli, and, needless to say, Augustin Dumay. As soon as Dumay launches into those indelible opening arpeggiations, supported with a truly chamber-scale litheness and finesse by the Orpheus players, you know instinctively that this is the real thing. If Dumay's 1988 recording with the LSO and Emil Tchakarov for EMI is notable for its youthful freshness and sparkling virtuosity, some 30 years later those special qualities are still very much in evidence, yet there is now an added depth and affectionate intimacy to Dumay's phrasing that is cherishable.
Dumay's natural affinity with Mendelssohn's elfin world of post-Classical gesturing spills over into the F major Sonata, in which he is accompanied with enchanting sensitivity, grace and precision by recent winner of the Queen Elisabeth Competition, Jonathan Fournel. Played like this, brimming over with joyful spontaneity, it is difficult to understand why it is so relatively neglected. Dumay and Fournel finish with a radiant selection of nine songs without words.
JULIAN HAYLOCK